Gas/Oxy Acetylene Regulators & Gauges

SORT BY
The best deals on gas welding and cutting equipment are right here at Welders Supply.
Welders Supply has the best prices on the best regulators on the market. With products from top manufacturers like Victor and Miller and the lowest possible online prices, you can't go wrong when you buy from Welders Supply.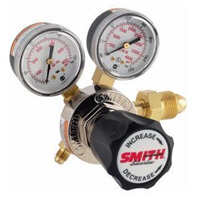 Products from top name manufacturers like:
Victor oxy acetylene regulators are built with high-strength housing caps and a forged brass body for exceptional durability. Smith regulators are available in economy and premium grades for hobbyists and pros. Propane, propylene, or oxy acetylene, Welders Supply has a regulator for your rig.
Some of our more popular gas welding and cutting equipment includes:
Best Prices on the Best Gas Welding Equipment and Accessories… Plus FREE SHIPPING
Add on a few welding or cutting accessories to your order to bring your total to $300 or more and you'll qualify for free shipping within the continental US. Just one more way Welders Supply has your back.
For quality assistance determining which gas welding and cutting equipment is right for you, call Welders Supply Company at 1.800.236.8825.