Miller Weldcraft W-250, 25 ft. (7.6 m.), Accessories, TIG Welding Torch Kit Part #300185
$1,085.00
You Save
$211.10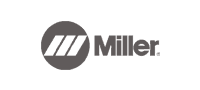 Miller TIG Welding Torch Kit #300185
Miller is proud to stand behind all of the products that they produce. However, with the welding, cutting, and gouging performed by their product they are not blind to the fact that some of their items shall and often do become damaged and in need of replacement. Fortunately, Miller provides kits packed full of the most likely parts to become damaged. This is the case with their water-cooled #300185 TIG welding torch kit. Designed with the Miller Weldcraft W-250 in mind this kit has all the parts necessary to replace the entire torch and leads to get you back up and running again. While remaining completely leak free with a secure connection that is easily attached to the machine due to the W-250's valve being intuitively designed. All of which has been done to allow for comfort and control of the torch during welding and to effectively extend the life of the torch itself with a lightweight and compact design that is identical to the ordinal.
Applications:
Aerospace
Boat / Yacht
Construction
DIY / Home Hobbyist
Farm and Ranch
Heavy Equipment Manufacturing
High Purity Processing
Infrastructure
Manufacturing
Metal Art / Sculptures
Auto / Cycle (Racing, Customizing, Restoring)
Railcar
Shipbuilding
From welding jackets and gloves to
Acetylene
equipment, Welders Supply has the largest online inventory of welding products at the best prices. Shop online today.
View our large selection of gas welding machine accessories with the greatest values online.
Miller Weldcraft W-250, 25 ft. (7.6 m.), Accessories, TIG Welding Torch Kit Part #300185 Specs

Industeries
&
Interests

Aerospace
Boat / Yacht
Construction
DIY / Home Hobbyist
Farm and Ranch
Heavy Equipment Manufacturing
High Purity Processing
Infrastructure
Manufacturing
Metal Art / Sculptures
Racing / Customizing / Restoring
Railcar
Shipbuilding

Warranty
SHIPPING DIMENSIONS

Height:
8.00 Inches
Width:
11.00 Inches
Length:
17.00 Inches
Weight:
18 Lb(s) 0 Oz
Product Questions and Answers
Have a question about this product? Submit your question using the form below