Share

Print
$126.79
$180.00
Reduced Price
You Save
$53.21
Add

$300.00

worth of items to your cart to qualify for

People who bought this product were also interested in:
Powermax 45 Handheld CSA Consumable Kit Part #851478
NOT FOR USE WITH Powermax 45 XP
At Welders Supply, we know exactly how long your consumables are going to last, and we have the best prices on everything plasma cutter related. The consumable kit for the Hypertherm Powermax plasma cutter contains every consumable you will ever need to keep your machine in good shape. Keeping your plasma cutter suited with the best and newest parts is vital to maintaining the highest level of efficiency possible, in both energy usage and power output. Keeping your plasma system clean and slag-free means more productive life for your machine.
Hypertherm's consumable kit part includes:
2 shields
1 deflector
1 retaining cap
2 types of nozzles
1 swirl ring
7 electrodes
Hypertherm's consumable kit has everything you could need to replace for your Powermax and more. All of this is available to you for the lowest prices possible, only at Welders Supply!
Choose unmatched quality and value by shopping Welders Supply for plasma cutters and accessories.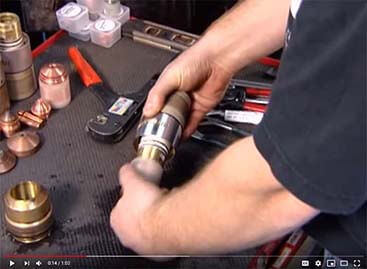 | | | |
| --- | --- | --- |
| 220674 | Shield | 2 |
| 220717 | Deflector | 1 |
| 220713 | Retaining Cap | 1 |
| 220671 | Nozzle 47 A | 6 |
| 220718 | Unshielded Cutting Nozzle | 1 |
| 220669 | Electrode | 7 |
| 220670 | Swirl Ring | 1 |
Maintaining & Inspecting Hypertherm Plasma Cutting Consumables