Hypertherm Powermax 45 Consumables
Our more popular Hypertherm consumable parts includes:
Best Prices on Hypertherm Powermax 45 Consumables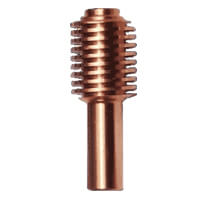 Welders Supply Company has the full line of Hypertherm consumables at the lowest prices you're likely to find anywhere. The Duramax Lock torch that comes with the Powermax 45 is a great torch, but it's only as good as the consumables you use with it.
We have the electrodes, nozzles, shield deflectors, retaining caps (drag caps) and swirl rings designed specifically for the Duramax torch and Powermax plasma cutters. With the right consumables, you'll work cleanly, quickly and cost-effectively. Most are available as individual parts, in packages of 5 or in bulk.
Free Shipping on All Orders Over $300
It's not likely a few consumables will total $300, but if you have other shopping to do and can bring your total over $300, you'll be eligible for free shipping anywhere within the continental US.
Welders Supply has the best deals on the best brands, including Hypertherm, Miller, Motor Guard, and Sellstrom.