Hypertherm Duramax Lock Machine Torch Assembly 180 deg - 25' #088167
Staying true to the roots of the original Duramax cutters, the upgraded Duramax Lock torches are as rugged and durable as ever. Compatible with Powermax 45 XP units, the 180-degree Hypertherm Duramax Lock Machine Torch 088167 now cuts a wider range of metals and has superior gouging and marking capabilities. It is suitable for use with the full range of Powermax 45 XP consumables to make sure it is ready for any job you come across. The trigger lockout prevents accidental firing and the torch disable switch makes changing between consumables safe and easy. It features a 25-foot lead.
Applications of the 180-Degree Duramax Lock Machine Torch 088167
With the trigger lockout feature and torch disable switch to make changing between application-specific consumables safe an easy, this torch is ready to take on any task you give it. It excels at:
Drag cutting
Extended reach cutting
Extended reach gouging
Fine feature cutting
Flush cutting
Marking
Max control gouging
Max removal gouging
Mechanized cutting
Precision gouging
What does the 180-Degree Duramax Lock Machine Torch 088167 work with?
This plasma cutter was designed and built for machining. It is a dependable workhorse that can be used with:
Track cutters
Pipe-cutters
Spring Electrode Starting
The SpringStart electrode technology eliminates moving parts to improve arc-starting and give you a torch that starts more reliably than ever. With the Hypertherm Duramax Lock Machine Torch 088167, it's always go-time.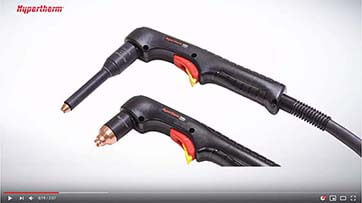 Operating range: 15 A - 45 - A
35mm (1 3/8") diameter barrel
39.6 cm (15.6") long, 32 pitch gear rack
Shield:
Part #220817
Ohmic, Part #220948
Unshielded deflector, Part #220955
Retaining Cap:
Part #220854
Ohmic, Part #220953
Nozzle:
Part #220941
Electrode:
Part #220842
CopperPlus long life upgrade, Part #220777
Swirl Ring:
Part #220857
SHIPPING DIMENSIONS

Height:
4.00 Inches
Width:
4.00 Inches
Length:
12.00 Inches
Weight:
5 Lb(s) 0 Oz
Product Questions and Answers
---
Q - What is the operating range?
A - 15 A to 45 A
Q - I need a replacement retaining cap. What is the part number?
A - Part #220854
Q - Does this torch work with a track cutter?
A - Yes, this machine torch is compatible with track cutters, CNC tables, and pipe cutters.
How to How to Install a Line-Disconnect Switch:
Disconnect Switch Needs.

Make sure that you use a line disconnect switch for each plasma power supply.

Placement.

Place the switch so that it is easily accessible to the operator. Installation must be conducted by a licensed electrician.

Check Interrupt Level.

The interrupt level of the switch must equal or exceed the continuous rating of the fuses/breakers.

Other Requirements.

Clearly mark the on and off positions. Contain an emergency stop. Have all other necessary fuse precautions.
Have a question about this product? Submit your question using the form below
People who bought this product were also interested in: