Duramax Torches
Hypertherm Duramax Handheld and Mechanized Torches
Need a replacement torch for an older model Powermax plasma cutter? Need a torch with a longer lead cable or a higher temperature? You'll find a variety of Duramax hand and machine torches for Hypertherm plasma cutters here at Welders Supply. We ship to anywhere in the world (free shipping on orders over $300 in the lower 48 states)! Get the best deals on plasma cutting torches, as well as Hypertherm consumables, accessories, and other Hypertherm equipment from Welders Supply.
Showing 8 of 8 results

SORT BY
Duramax Torches Provide Savings and Better Cutting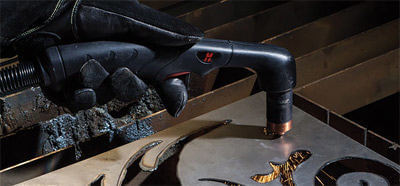 Duramax Torches from Hypertherm deliver peak welding performance, reliability, longer consumable life along with very simple upgrades. They are five times more impact resistant. They are also 20% more heat resistant. It means torches from Duramax are solid performers in even the toughest welding environments.
They feature specially-designed electrode technology with no moving parts. It means more dependable arc starting and better cutting results.
Duramax Torches are a suitable replacement torch for the Hypertherm Powermax plasma cutting machines. They come in both 25-foot and 50-foot lengths for units either with or without a screw-on quick disconnect. You can purchase the Duramax Torch separately.
Duramax Torches Are Superbly Designed For Top Performance
Duramax has expertly designed these torches for better cut quality and longer life. An internal switch avoids cap-sense failure. The torch neck is 20% slimmer with a comfortable ergonomic design. You get better access and more visibility of the arc. The greater distance between the head and trigger protects your hand from the heat. A shadow on the trigger protects you from spray back. There is a hard stop on the body so you can't accidentally crush consumables by over-tightening.
Duramax torches are better in every regard. The conical flow nozzle produces more air density. This improves cut quality and makes consumables last longer. The diffuser-shaped shield reduces the built-up of dross. This means smoother and more efficient drag cutting. Even the handle is greatly improved -- fiber reinforced for more heat resistance and impact resistance. Order a Duramax torch today for more productivity and increased profits.
Get Great Prices on Duramax Torches from Welders Supply, Your Hypertherm Dealer
Wherever you are in the world, Welders Supply ships Hypertherm Duramax torches and other plasma cutting accessories. From our locations in the United States to our neighbors in Canada and Mexico and all the way on the other side of the globe:
Australia
India
Indonesia
Japan
Netherlands
U.A.E.
U.K.
Or anywhere else!
Hypertherm Duramax Torch Parts
The consumables for Duramax torches are designed for dependable, long-lasting use. The conical nozzle delivers 55% longer consumable life (when compared to T60 or T80 torches). This can cut consumable costs by as much as 30%. The savings go right to your bottom line. You'll experience great savings as you get to use the same materials over and over. When it is time to order replacements, Welders Supply has consumables for Hypertherm hand and machine torches available online.
For the best in welding torches, contact the premier welding torch supplier at Welders Supply Company today.