Miller FILTAIR® SWX Dual-Arm Add-On Package 951520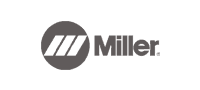 Miller FILTAIR® SWX Dual-Arm Add-On Package 951520, 10 ft. Fume Extraction Arm
Miller FILTAIR® systems are designed specifically for fume capture in welding environments. The extraction arms come pre-assembled for fast installation and are designed for convenient operation. With an innovative extended-capture fume extraction system, the FILTAIR® can stay out of your way and still do its job more effectively than alternative fume extractors. These wall-mounted arms are flexible and easy to adjust, so they can cover large areas with minimal adjustment. Pre-assembled extraction arms are available in 7-, 10-, or 12-foot lengths to fit your unique workspace.
ZoneFlow technology is designed to create a large, effective weld fume extraction zone. To ensure optimal performance, minimize air currents and turbulence through the welding area, or do your best to compensate for them when adjusting the arm. DO NOT position the hood behind the welder. This will pull airborne contaminants through the welder's breathing area.
The SWX Dual-Arm Add-On Package adds an arm to your installed FILTAIR® system. For most additions, we typically recommend installing an arm of a different length than the original for a more dynamic setup. However, your fume extraction system should be optimized to your welding station. If two arms of the same length make the most sense, it's your best move. This specific add-on is a 10-foot arm.
WHAT'S INCLUDED
8 in. diameter x 10 ft. standard fume extraction arm
Backdraft dampers
Flexible duct (7 x 37 in.)
Mounting bracket for blower/arm
115 V on/off control box
115 V blower
Easy-to-Operate Standard Arm
Featuring external adjustments so air can pass through with less airflow resistance, giving you stronger CFM (airflow). It offers reliable and accurate positioning across the full range of motion of the arm, as well as easy adjustment and maintenance to ensure long-lasting operation. Pre-assembled extraction arms are available in 7, 10, or 12-foot lengths.
Durable Bellmouth-Shaped Hood
Features a convenient 360-degree rotation for unlimited positioning. The FILTAIR® extraction hood captures weld fumes at a greater distance from the source than other hood designs. This also means less hood adjustments for longer welds.
Class-Leading Suction Power
A high-performance fan generates 1,200 cfm and creates an Accu-Rated minimum of 875 cfm extraction at the hood to better capture weld fumes and provide a cleaner environment.
PROCESSES
Flux Cored (FCAW)
MIG (GMAW)
Stick (SMAW)
TIG (GTAW)
SHIPPING DIMENSIONS

Height:
37.00 Inches
Width:
50.00 Inches
Length:
78.00 Inches
Weight:
249 Lb(s) 0 Oz
Product Questions and Answers
Have a question about this product? Submit your question using the form below
People who bought this product were also interested in: