Miller Fume Extraction
Miller Electric Fume Extraction Solutions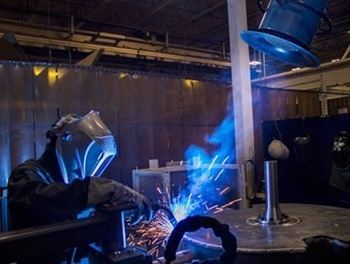 Let Welders Supply help you keep your work environment cleaner, safer and completely compliant with OSHA regulations. We offer several Miller fume extractors perfect for clearing the air in small welding booth spaces such as those typically found in training centers and small shops. These units incorporate advanced nanofiber filter technology and powerful motors to efficiently remove smoke and harmful airborne contaminants from the air.
A work environment with clean air is important not just for employees, but also for employers looking to maintain productivity and retain workers. Your investment in a Miller fume extractor will provide you with many years of service due to their quality construction and well-engineered components. They are extremely user-friendly—even to the point of including a flashing indicator light to alert you when it is time to change or clean the filter. Moving them from one workstation to another as needed is easy. Something else to feel good about: Like all Miller Electric products, these fume extractors are proudly built in the USA.
Simple to use, easy to maintain and a welcome addition to any work environment, Miller fume extractors let everyone breathe a little easier.
Check our discounted prices on Miller Safety Equipment or feel free to contact us online or at 1-844-682-0205 if you have any questions.