Miller Coolbelt Welding Helmet Headgear With Integrated COOLING FAN! Part #245230
Miller Coolbelt Welding Helmet Headgear #245230

LIMITED QUANITIES!!
So you already have a Miller Autodarkening Helmet, And you have it down so much it REALLY gets warm under it! Would't it be nice if there was a lot of air flowing inside of it??? Coolbelt is the answer! Strap the lightweight fan on your waist and pump some cool air to your helmet. Oh what a relief it is!!
Miller Coolbelt Welding Helmet Headgear is the perfect accessory for Miller Autodarkening Welding Helmets, using a lightweight fan and hose to pump cool air into the helmet. The fan and hose clips securely to your belt, providing a huge relief to welders who have to work in hot, sweaty environments. The cooling effect is enabled by fan-produced air movement. This headgear does not filter or purify the outside air. Always weld in the safest possible conditions.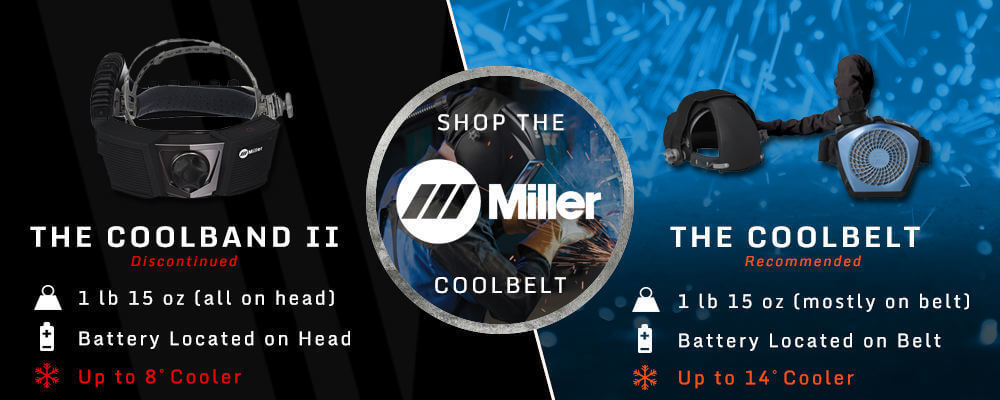 Miller Coolbelt Welding Helmet Headgear Features:
Cools the air under your Miller welding helmet up to 17 degrees Fahrenheit.
Controls the temperature under your Miller Auto Darkening Welding Helmet using multi-speed fan
Reduces fog using consistent airflow movement
Provides comfort via lightweight design
Allows full range of motion using "swivel quick connection"
Delivers long-lasting cooling solution with rechargeable lithium battery.
Compatible with Miller MP-10, Pro-Hobby, Performance, Elite, Digital Elite and Titanium Series
Look no more!! Welders Supply Company has the best price on Miller welding equipment online, the WEB, the WORLD!
Miller Coolbelt Welding Helmet Headgear With Integrated COOLING FAN! Part #245230 Specs

Warranty
SHIPPING DIMENSIONS

Height:
7.75 Inches
Width:
15.00 Inches
Length:
10.25 Inches
Weight:
4 Lb(s) 1 Oz
Product Questions and Answers
---
Q - What helmets will this fit in?
A - Miller says it will fit all their current models except the T-94 Series helmets.
Q - Does this filter out any junk in the air?
A - It doesn't filter air at all. It is just for cooling. What looks like a filter in the photos is the housing for the fan.
Have a question about this product? Submit your question using the form below
People who bought this product were also interested in: