Welders Supply Company Crystal Lake, IL
Hours
Mon-Fri: 7:00am-4:30pm

Address
189 South Main Street
Crystal Lake, IL 60014, USA
Welding Equipment & Services in Crystal Lake, IL: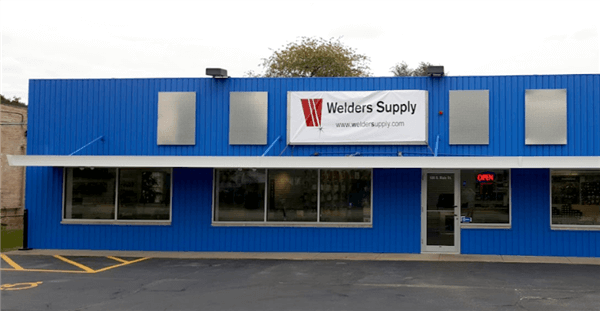 Preventative Maintenance
Machine Calibration
Vendor Managed Inventory
Gas Deliveries
Equipment Use and Safety Training and Certifications
Have a welding business? Our welding experts can help you cut costs without hurting the top line.
Need Storage Cabinets? Parts Bins? Gas Cylinder storage cages? We have everything you need to get the job done.
Call us at 815-261-9100 for prices. We serve welders all over northern Illinois. Whether you're in Waukegan, Carpentersville, Wauconda, Algonquin, Cary, Huntley, Mundelein, or anywhere in the surrounding area, Welders Supply is ready to help you!
Welding Supplies, Equipment Repair & Service, and Safety Training
Nestled in McHenry County of Illinois, the Welders Supply in Crystal Lake is one of the many storefront locations for Welders Supply Company in the Midwest. Our Crystal Lake, IL store is right on S Main St off of E Terra Cotta Ave and is a short drive from the Crystal Lake Central High School and Crystal Lake Plaza Shopping Center. We serve many areas nearby, including:
Village of Lakewood
Woodstock
McHenry
Volo
Lake Zurich
Elgin
With welding machines, cylinder gases, plasma cutting machines, and used welding equipment available, our Welders Supply Company store in Crystal Lake, Illinois can keep up with all of our customers' welding needs! Contact us today for more information.
Crystal Lake, Illinois Welding Supplies For Sale
All welding supplies offered at Welder's Supply Company are suitable for professional users who demand the highest quality supplies. Accessories for welding machines and plasma cutters maximize the capabilities of your machine and make your job easier. Choose from Flex-A-Prene welding cables, Spoolmate wire feeders, or spool guns. All of our supplies are compatible with MIG, Stick and TIG welders. We keep a wide range of consumable parts in stock to keep your equipment operating. Welders Supply also sells individual parts so you can perform repairs on your machines without having to spend additional money on labor or installation.
Shop our online selection of welding apparel & safety equipment:
Stop by our Crystal Lake store or shop passive shade and autodarkening helmets online:
Welding Supplies & Equipment in Northern Illinois
Welders Supply sells a variety of welding equipment from quality brands such as Miller, Hypertherm, ESAB, Blue Demon, & more. No matter what piece of equipment you are looking for, Welders Supply has the ideal solution for all of your welding, cutting, and apparel needs.
Northern Illinois MIG, TIG, Stick & Multiprocess Welders
Welders Supply Company carries a robust inventory of welders for MIG, TIG, and Stick processes. Our most popular welders from Miller, ESAB, Hobart, Tweco and Blue Demon are known for durability and reliability, even in the most demanding working conditions. Whether you are a construction tradesman or a hobbyist, our team of welding professionals can help you find the ideal machine for your desired application. Shop multiprocess welders for a versatile solution able to handle a variety of processes. Engine-driven welding machines eliminate the need for an external power source, allowing them to be used anywhere. Self-powered units can also be used as a generator, air compressor, or battery charger.
Plasma Cutters For Crystal Lake, IL Tradesmen
Plasma cutters are designed to cleanly cut through ferrous and non-ferrous metals. The thicker the material you plan on cutting, the higher amperage your machine will need to use. Variable power machines allow both thick and thin materials to be cut quickly and easily. Our Crystal Lake location carries plasma cutters for any application. Choose from professional models such as Miller Spectrum units or value-priced equipment for more infrequent use.
Shop in Crystal Lake Shop Plasma Cutters Online
Contact us or call 1-800-236-8825 for more information!
Bulk & Micro-Bulk Gasses Available in Northern Illinois
Welders Supply sells bottled gasses for industrial, medical and beverage applications. Our gasses are packaged in high-pressure-rated cylinders and are available for purchase in both bulk and micro-bulk quantities. We carry both pure and mixed gas. Welders Supply also sells systems for gas distribution, mixing, and tank monitoring. Our gasses and gas equipment have been utilized for food packaging, beverage carbonation, welding and cutting, heat treating, biological storage, chromatography and more.
Gas Cylinder Suppliers for Crystal Lake Area: Sales, Rental, Refills, & Delivery
At our Crystal Lake store, you can buy and rent gas tanks, exchange empty cylinders, or order a gas delivery! We're northern Illinois' trusted gas cylinder suppliers, and our Crystal Lake store carries a complete selection of pure and mixed gases including:
Dry Ice in Crystal Lake, Illinois
Frozen gas, also called dry ice, is used in shipping containers, trucks and packaging to keep products at low temperatures during transit. Dry ice is also used in the blasting & cleaning, food processing and pharmaceutical industries. At Welders Supply in Crystal Lake we offer dry ice in a variety of formats including:
Dry ice pellets
Food-grade dry ice
Solid block dry ice
Contact us or call 1-800-236-8825 for more information!
Hello welders,
We are monitoring the coronavirus situation and doing what we can; keeping our store sanitized, & doubling down on employee hand washing. For now, store hours are unchanged. We will keep you updated on this page.
We support the American welders who do the hard work that supports hospitals, factories, and families.
We will continue to offer online ordering & delivery on the website or process orders and deliveries over the phone. Give us a call. We'll be here.
On behalf of everyone at Welders Supply: good health to you and yours.
- Pete, president