Welding Shirts

SORT BY
Flame Resistant Welding Shirts - Safe, Affordable, & Comfortable
What Are the Advantages of a Welding Shirt?
Welder Supply Company provides a variety of flame-resistant welding shirts. Welding shirts offer many advantages over traditional welding jackets:
Breathable
Light
Affordable (half the cost!)
Comfortable Welding Shirts - Stay Cool!
During the summer, thick heavy welding jackets can be cumbersome and HOT. Even though you'll never catch fire in our protective gear, you might feel like you're on fire wearing a welding jacket in the middle of July. Welding shirts are a great way to stay cool and safe. Made from fire-resistant 7-9 oz cotton, you'll barely notice they're there.
Welding Shirts are Affordable!
Our welders love the flexibility and comfort these shirts offer. Plus, you won't have to shell out 50+ dollars for a single shirt.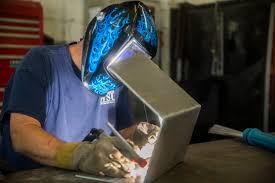 Quality Products - 100% of the time
Welder Supply provides high-quality products to local industries. Our shirts are no different. We don't cut corners to save money on fabric and equipment like other corporations. Because we're not just a corporation. We Are Welders.