Share

Print
$113.00
$126.00
Reduced Price
You Save
$13.00
Includes:
rotating torch cap holder, 2 metal wheels & adjustable axles, 15" (38cm) arm, center pin & holder
Includes:
rotating torch cap holder, 2 metal wheels & adjustable axles, 15" (38cm) arm, center pin & holder
Add

$300.00

worth of items to your cart to qualify for

Hypertherm Circle Cutting Guide Basic Package #127102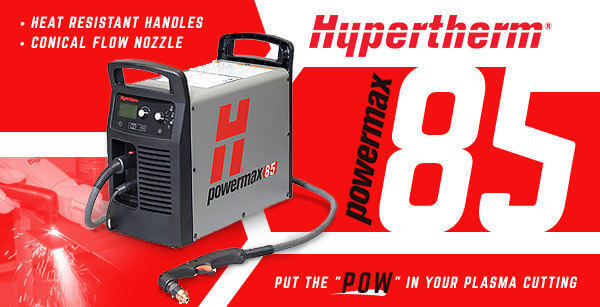 Stay the Course with a Basic Circle Cutting Guide from Hypertherm
Here we have the Hypertherm circle cutting guide package for the Powermax 30, 45, 65, 85, 600, 1000, 1250, and 1650. This guide is designed to utilize hand torches for performing:
High-quality straight cuts
Circle cuts up to 28 inches (70 cm) in diameter
Circle cuts down to 3 inches (7 cm) in diameter
Bevel cuts
You get an all-in-one complete, professional package. The guide uses an adjustable point pivot, stabilizing wheels and a torch head bushing to obtain consistent and accurate measured circles on work pieces. All of this and more brought to you for a low price by Welders Supply Company!

You don't have to worry about messing up your cuts anymore. The circle cutting guide from Hypertherm sets you up to make the perfect cut every time you start up the machine. Work faster. Get more done. Make fewer mistakes. That's what Hypertherm does for you.
Order the Basic Circle Cutting Guide Kit #127102 from Welders Supply today, or take a look at the more robust deluxe circle cutting guide kit #027668 for added performance.
Included in Hypertherm Circle Cutting Guide Basic Package #127102:
Rotating torch cap holder
2 metal wheels and adjustable axles
15" (38 cm) arm
Center pin and holder
Item
Kit
Compatible torches
Current compatible Powermax systems
027668
Deluxe kit
Air T30
Duramax®
Duramax® HRT/HRTs
Duramax® HRT2
Duramax® LT
Duramax® RT
PAC105
PAC110
PAC120
PAC121
PAC123
PAC125
PAC140
RT60
RT80
T100
T30V
T45V
T60
T80

Powermax30® XP
Powermax30® AIR
Powermax45® XP
Powermax65®
Powermax85®
Powermax105®

127102
Basic kit
017053
Deluxe kit for Hyamp™ torch
Duramax® Hyamp™
Powermax125®
Hypertherm Deluxe Cutting Guide Review and Demo
Product Questions and Answers
---
Q - What is the maximum diameter of this kit?
A - The maximum diameter of this circle cutting kit is 28 in, or 70 cm.
Q - What machines does this kit work with?
A - This circle cutting kit works with the Hypertherm Powermax 30, 45, 65, 85, 600, 1000, and 1650.
Have a question about this product? Submit your question using the form below