Hypertherm Powermax 30 XP Plasma Cutter #088079
The Hypertherm Powermax 30XP Plasma Cutter has always been a great cutting tool for electrically conductive metals, but Hypertherm has made it even better. This portable plasma cutter features a unique "two-in-one" design with high-power capability for cutting thick metals (up to 16mm) as well as Hypertherm's FineCut technology for detailed cutting of thin metals.
---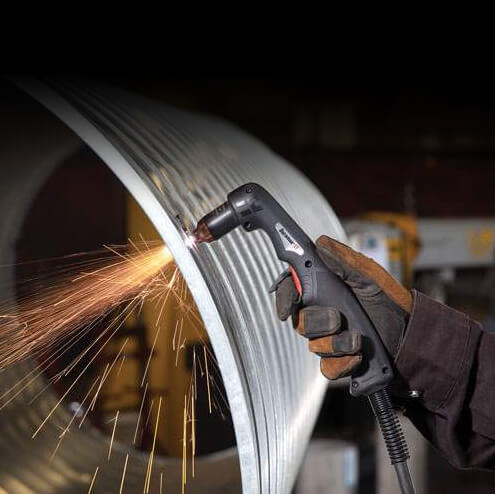 ---
What's Included:
Power Supply
15' Duramax LT hand torch w/ standard consumables
15' Work Clamp
240V/20A Plug w/ adapters for 120V/15A and 240V/20A circuits
Operators Manual
Safety Manuals
Consumable kit w/ 1 standard nozzle, 1 electrode, 1 FineCut nozzle, and 1 FineCut deflector
Plastic Carrying Case w/ Strap
Cutting Glasses
Welding Gloves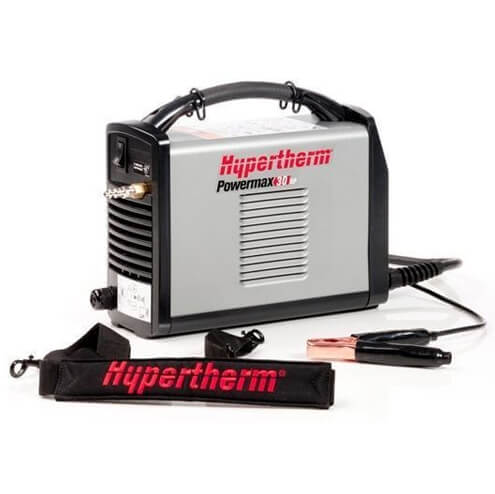 ---
HYPERTHERM Powermax 30 CONSUMABLES AND KITS
Stock up on consumables with the Powermax 30 handheld CSA consumable kit or Powermax 30 XP essential handheld consumables kit.
Specifications

Input voltages
120-240 V, 1-PH, 50/60 Hz
Input curent @ 3.8 kW
120-240 V, 1-PH, 25-18.8 A
Output current
15-30 A
Rated output voltage
125 VDC
Duty cycle @ 40° C (104° F)
35%, 240 V
20%, 120 V
Open circuit voltage (0CV)
256 VDC
Dimensions with handles
14.0" D; 5.5" W; 11.5" H
Weight w/ 15' torch
21.4 lbs
Gas supply
Clean, dry, oil-free air or nitrogen
Recommended gas inlet flow rate/pressure
4 scfm @ 80 psi
Input power cable length
10'
Power supply type

Inverter - 1GBT

Cuttable metal

Aluminum

Mild Steel

Stainless Steel

Cut capacity

1/2"

3/8"

1/4"

Engine drive requirement
5.5 kW for full 30 A output
Certifications
CSA-certified for use in the Americas and Asia, except China
Warranty
Power supply: 3-year
Torch: 1-year
Powermax system requirements:
AC power source (fixed or generator)
Compressed air – shop air, portable air compressor, or bottled air (nitrogen is often used for stainless steel) – no explosive oxyfuel (excluding Powermax30 AIR system)
Safety equipment – including shaded glasses or face shield, gloves, protective clothing
Proper ventilation
Customer Reviews
My first plasma cutter and I am in love. Cuts steel like butter. Very pleased.
Product Questions and Answers
---
Q - Does it come with a cover?
A - No, it comes with a plastic carrying case, though.
Q - What torch does this come with?
A - A Duramax LT Torch with a 15' lead
Q - 120 V or 240 V?
A - Both! Hypertherm's Auto-Voltage technology lets you use either. Plug adaptors are included with this package.
Q - What consumables come with this package?
A - 1 standard nozzle, 1 electrode, 1 FineCut nozzle, 1 FineCut deflector
Q - What does this weigh?
A - 21.4 lbs with the torch.
Q - Is the 30 XP the same at the 30?
A - No. The 30 XP offers a variety of improvements over the 30. Some of the most significant improvements include: 50% increase in output power at the torch, 6 more hours of electrode life in lab testing, and a reduced duty cycle to 35% on 240 V.
Q - How long is the lead?
A - 15 feet.
Have a question about this product? Submit your question using the form below
People who bought this product were also interested in: