Hypertherm Powermax 30 XP Plasma Cutter #088079
$1,420.00
Save $270.00
(Reg. $1,690.00)
Looking for the Hypertherm Powermax 30? Get the updated Hypertherm Powermax 30 XP plasma cutter for the best price online! Faster cut speeds, lower costs, and higher efficiency. Free shipping to lower 48 states!
Add item to cart for


Share

Print

ADD TO CART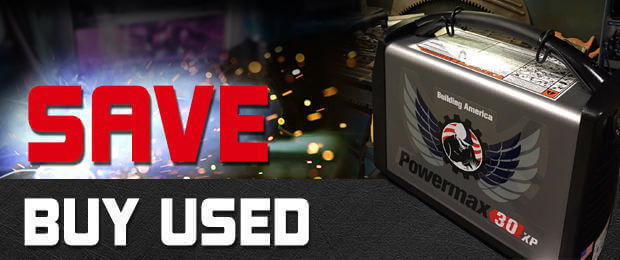 Shop Used Powermax 30 XP
People who bought this product were also interested in:


Hypertherm Powermax 30 XP Plasma Cutter #088079
Cut metal! Cut Cost! Cut Fast with the Hypertherm 30XP!

When you need to cut metal, don't waste time or money. Use the updated Hypertherm Powermax 30XP Plasma Cutter from Hypertherm. It was the best ever. Now it's even better!
A New and Improved CNC Machine
50% increase in cutting power
2-in-1 design120 or 240 V compatible
Longer lasting
Higher heat and impact tolerance
A 50% increase in cutting power delivers faster cut speeds. There's an easy-to-use 2-in-1 design with high-power cutting for thick metals plus FineCut® consumables for detailed cutting on thin metal. Plug into any 120 or 240 V power. The auto-volt technology takes over. Plug adapters included.
Could this portable plasma cutting machine get any better or easier? Sure!

The Hypertherm Powermax 30XP Plasma Cutter from Welders Supply is lightweight with a durable carrying case to protect the system and gear. Patented consumables designs last twice as long and average 70% more efficiency to lower cutting costs. You also save time because these patented consumables provide superior cut quality.
A new Duramax LT Torch design withstands heat and impact. Hypertherm certified reliability delivers top performance in even the most demanding environments.
Call Welder Supply today. And get cutting with some of our Hypertherm Kit Powermax accessories and consumables—Electrode, Nozzle, Retaining Cap and more!
Compare the Hypertherm Powermax 30 XP vs. Thermal Dynamics Cutmaster 42
Compare the Hypertherm Powermax 30 XP vs. Miller Spectrum 375
Hypertherm Powermax 30xp Plasma Cutter Kit comes with:
Power Supply
15' Duramax LT hand torch w/ standard consumables
15' Work Clamp
240V/20A Plug w/ adapters for 120V/15A and 240V/20A circuits
Operators Manual
Safety Manuals
Consumable kit w/ 1 standard nozzle, 1 electrode, 1 FineCut nozzle and 1 FineCut deflector
Plastic Carrying Case w/ Strap
Cutting Glasses
Welding Gloves
See Also: Hypertherm Powermax 30 AIR (with built in compressor)
Compare the Hyperthem Powermax 30xp vs 45, 65, 85, 105 and 125.
OTHER VERSIONS:
088096 Powermax 30 Air with built in compressor

View all Hyperthem Powermax Plasma Cutters
Specifications

Input voltages
120-240 V, 1-PH, 50/60 Hz
Input curent @ 3.8 kW
120-240 V, 1-PH, 25-18.8 A
Output current
15-30 A
Rated output voltage
125 VDC
Duty cycle @ 40° C (104° F)
35%, 240 V
20%, 120 V
Open circuit voltage (0CV)
256 VDC
Dimensions with handles
14.0" D; 5.5" W; 11.5" H
Weight w/ 15' torch
21.4 lbs
Gas supply
Clean, dry, oil-free air or nitrogen
Recommended gas inlet flow rate/pressure
4 scfm @ 80 psi
Input power cable length
10'
Power supply type
Inverter - 1GBT
Engine drive requirement
5.5 kW for full 30 A output
Certifications
CSA-certified for use in the Americas and Asia, except China
Warranty
Power supply: 3-year
Torch: 1-year
Troubleshooting
Hypertherm Powermax 30 XP Plasma Cutter #088079

Hypertherm Powermax 30 XP Plasma Cutter #088079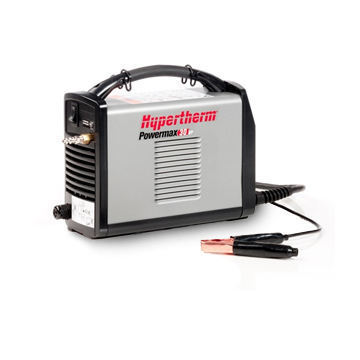 My first plasma cutter and I am in love. Cuts steel like butter. Very pleased.
Add item to cart for


ADD TO CART
Shop Used Powermax 30 XP