RUFFIAN ES 150G EDW Compact Engine Driven Welder #0707070150
Intuitive, easy to use control panel allows you to control welding current independently from auxiliary output. Includes (4) 120 VAC and (1) 240 VAC receptacles.
Ruffian ES 150G is a lightweight, powerful, all-in-one
DC Stick welding machine and AC generator combined. As a welder, Ruffian uses inverter technology to provide up to 150 A of reliable welding power at 60% duty cycle in a very stable arc that helps avoid rework. As an AC generator, Ruffian uses a 14 HP Kohler® engine to deliver up to 4.5 kW starting power. 120 VAC and 240 VAC outlets provide versatility to run lights, grinders, hand tools – even light-duty plasma cutters and MIG/TIG welders – and to use as emergency backup.
Features

of the RUFFIAN ES 150G EDW
Advanced control over arc parameters, including adjustable Arc Force, to optimize the arc – especially with 6010 electrodes
Impressive power output of 150A at 60% duty cycle
Thermal protection for the welder and generator guaranteeing a long, useful life
Latest inverter technology ensures a stable and smooth stick arc that produces the cleanest welds
Trusted Kohler gas engine meets a high standard of power and reliability
Fuel-efficient 5-gallon gas tank and engine hour meter
Auxiliary generator output voltage is independent from the welding current, allowing simultaneous use of electrical tools without worrying about adjustments to the welder settings
Four 120 VAC, 20 A GFCI receptacles and one 240 VAC (6-50R) receptacle, all protected by a circuit breaker and covers
Easy to maneuver through the job site with large industrial-grade wheels that provide high ground clearance; and ergonomic, removable handles that distribute weight evenly
3-year warranty by ESAB on welder/generator and 3year warranty by Kohler on engine Visit esab.com for more information.
Fuel Consumption Data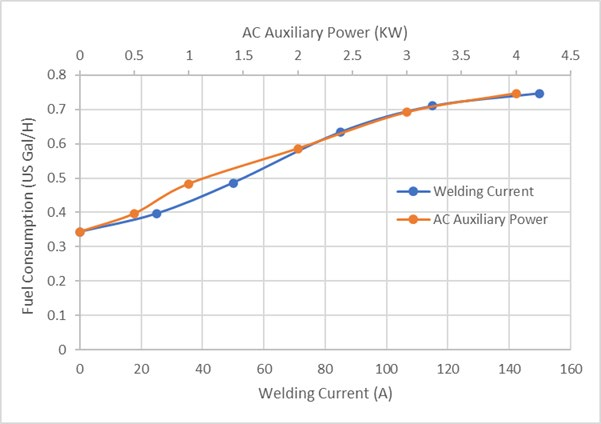 Fuel consumption curves show the typical fuel use under welding or auxiliary generator loads
5.0 US gal. (18.93 L) fuel capacity
Welding at 150 amps or under a continuous load of 4,000 watts of auxiliary generator power, Ruffian 150 will run for approximately 6.5 hours
Industries
Repair and Maintenance
Agricultural Equipment
Light Fabrication
Civil Construction
Hobbyist
Mobile Equipment
ESAB RUFFIAN ES 150G EDW #0707070150 - Specifications
Welding Machine Specifications
Output Setting Range (DC), Stick (SMAW)/MMA
20 A/20.8 V – 150 A/26 V
Rated Duty Cycle, Stick (SMAW)/MMA
60% @ 150 A/26 V
100% @ 115 A/24.6 V
Open Circuit Voltage (OCV)
78 V
Generator Specifications
Phases
1 ph
Voltages
120/240 VAC
Frequency
60 Hz
Peak Power
4.5 kVA/kW
Continuous Power
4 kVA/kW
Max Current (Without Welding)
34 A (120V AC); 17 A (240V AC)
Engine Specifications
Brand, Model, and Warranty
Kohler Command PRO CH440, 3-year warranty by manufacturer
Power
14 HP
Fuel Type
Gasoline
Cooling Type
Air
Cylinders
1
RPM
3600
General Specifications
Fuel Tank Capacity
18.93 L (5.0 US gal)
Enclosure Class
IP23S
Dimensions L x W x H
Without Wheels and Handles:
With Wheels and Handles:
729 x 572 x 660 mm (28.70 x 22.52 x 25.98 in)
1037 x 730 x 803 mm (40.83 x 28.74 x 31.61 in)
Weight (Empty Weight, No Gas)
Without Wheels and Handles:
With Wheels and Handles:
223.8 lb (101.5 kg)
248.0 lb (112.5 kg)
Ordering Information
Options & Accessories
Electrode Holder 200A and Lead Assembly, 4 m (13 ft)
WS200E13
Ground Clamp 200A and Lead Assembly, 3 m (10 ft)
WS200G10
Lifting Eye
707071001
Protective Cover, ES 150G EDW
707071002
Tweco®-Style to OKC Adapter Connector
94251240
Note: Spare and wear parts for Kohler Command PRO CH440 engine are offered by Kohler. See separate user manual for details.
Simultaneous Welding and AC Auxiliary Power Usage – Shared Loads
Welding Current (A)
AC Auxiliary Power (kW)
0
4
20
3.5
40
2.7
60
2.2
80
1.6
100
1
120
0.6
140
0.2
150
0
Product Questions and Answers
Have a question about this product? Submit your question using the form below
People who bought this product were also interested in: