Welding Stainless Steel (Stick/TIG/MIG/Flux-Core)
Best Welder for Stainless Steel
Stainless steel welding is known for its durability and corrosion resistance, which is why it's widely used for building materials, furniture, food and beverage containers, medical equipment, and thousands of other applications. It is an iron-based alloy containing chromium, the element that enables it to resist rust. Chromium levels in stainless steel vary from 11% to 30%. Because of this, it is as much as 5 times more expensive than mild steel and is more difficult to work with—particularly for novice welders. When welding stainless steel, you need to use wire or rod of the same grade (or higher) as the steel you're welding.
Stick Welders for Stainless Steel Welding
Stick welding, also known as Shielded Metal Arc Welding (SMAW), is a common option for stainless steel welding in maintenance and repair applications. But it's difficult to weld thin stainless steel and it throws off a considerable amount of slag. You need to have your helmet down or wear safety glasses to protect your eyes and face from slag flying up when you clean the weld. Stick welding stainless steel is just as straightforward as working with mild steel, and the rods tend to produce a smooth, soft arc. It creates strong weld joints, though not as strong or as pretty as the welds produced with a TIG welder.
Benefits of Stick Welding for Stainless Steel
No external shielding gas required

Stick welders are less expensive than MIG or TIG welders

Can be used outdoors in windy or rainy conditions

The ground

clamp can be attached far away from the welding point

Equipment is portable
Shop all stick welders at Welders Supply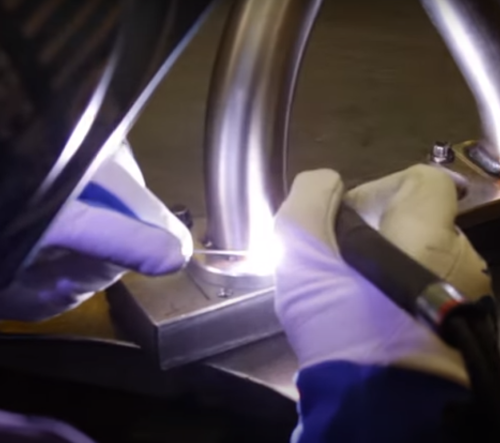 What type of welding machine do you need to weld stainless steel?
The three most commonly used welding machines for working with stainless steel are MIG, TIG and Stick welders. Let's take a quick look at each:
MIG welders for stainless steel
If you aren't concerned about having the prettiest welds possible, a MIG welder is the best choice for welding stainless steel. MIG welding creates a strong joint between two pieces of stainless steel, but the welds won't look as nice as welds done with a TIG welder. MIG welders are often used because a pulsed current supply makes it easier to weld in difficult to reach spots. The downside of MIG welders for stainless steel is that they offer very limited control of distortion when working with thin steel.
Benefits of MIG welding for stainless steel
MIG welding equipment is relatively simple and easily transported

Creates a strong weld joint

Easier to work with in tight spots

Well suited to joining large pieces of stainless steel

Fast process makes it ideal for production environments
Shop all MIG welders at Welders Supply
TIG welders for stainless steel
TIG welding is the most widely used welding process for stainless steel. Not only does TIG welding enable compact and precise weld beads, it is also easy for an experienced welder to control the amount of heat in the weld puddle so the metal doesn't distort. The drawback to TIG welding stainless steel (or mild steel) is that it takes longer than MIG or Stick welding and requires good technique. Also, the machines have multiple settings and are more complicated for novices to use than MIG machines.
Check out our welders, including:
Benefits of TIG welders for stainless steel
Precise, aesthetically pleasing welds

Stronger, more durable weld joints than MIG welding
Shop all TIG welders at Welders Supply
Not Sure Which Type of Welding Machine to Buy?
If you're unsure about which type of welder to get, or have questions about a specific machine you're considering, free to email or call us. We can help you decide on a welding machine that meets your needs and your budget.