Victor Welding & Cutting Torches
ESAB's Torch & Regulator Brand
Victor Cutting Torch ST900FC
Victor Torch Handle - 100FC Vanguard Medium Duty #0382-0032
Flametech MD Fuel Regulator
Victor 1-W Welding Nozzle 0323-0120
Victor Performer Torch Kit Outfit for Propylene Medium Duty
For Quality And Value, Victor Wins Every Time!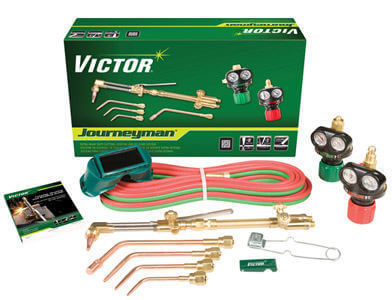 Victor Technologies leads the world in cutting edge solutions for professional cutting, welding and gas control. Back in 2014, Colfax Corporation completed its purchase of Victor Technologies. They combined it with Colfax' existing (and outstanding) ESAB product line. Both the Victor and ESAB brands remain intact and reach an even larger global market.
Victor and ESAB worldwide customer service and product development are unparalleled. Victor has over 350 U.S. and foreign patents -- issued or pending. The combination of Victor Technologies and ESAB makes them the recognized world leaders.
With Victor and ESAB operating jointly, every single welding and cutting solution you need is available from one manufacturing source. These high-performing welding and cutting solutions are also available from one distribution source, your low-priced online welding professionals at Welders Supply.
Victor Gas Welding Equipment: Accurate, Reliable and Durable
Each product from Victor Technologies is designed for reliability, durability and high-performance. Their plasma systems and torches optimize industrial air plasma cutting – air, high precision or conventional. Specially-designed accessories assist high precision, as well as conventional plasma cutting.
Victor's manual plasma systems include the Drag-Gun Plus and CutMaster True Series--both solid performers with a loyal following. Welding equipment from Victor includes inverter power sources, conventional MIG power sources, synergic pulsed MIG, plasma welding power sources, plasma welders and torches.
View all the top quality welding equipment from Miller, Tillman, Hobart and more!