Miller Respirators
Your Search Results:
8 items found

SORT BY
Miller PAPR Foam Particulate PreFilter (6 per package) #235674
Add to Cart
Product Number: 235674
Miller PAPR with Hard Hat & Titanium 9400i Helmet #261659
$1,746.10
$2,384.43

*
You Save
$638.33

Add to Cart
Product Number: 261659
Miller PAPR with Titanium 9400 Helmet Part #264879
$1,374.30
$1,847.48

*
You Save
$473.18
Out of Stock

Add to Cart
Product Number: 264879
MILLER LPR-100 HALF MASK RESPIRATOR Part#ML00894(S/M), ML00895(M/L)
Add to Cart
Product Number: ML0089(4,5)
MILLER REPLACEMENT FILTER FOR LPR-100 RESPIRATOR (Pack of 2)
Add to Cart
Product Number: SA00818
Miller LPR-100™ Half Mask, Nuisance OV Relief Respirator, S/M & M/L #M...
Add to Cart
Product Number: ML00994
Miller P100 Filters, Nuisance OV Relief, Pair #SA00819
Add to Cart
Product Number: SA00819
Miller N95 Disposable Mask, Part#267334 (Pack of 10) Part#267334-2 (Pa...
Add to Cart
Product Number: 267334
Our most popular respiratory protection products include:
Respiratory Protection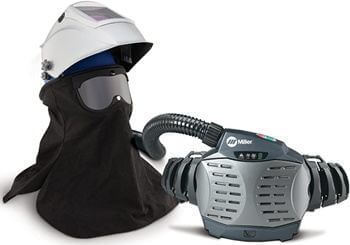 Miller Electric takes the health of welders seriously. Their respirator line ranges from flame retardant disposable respirators to the low-profile design Half Mask, which fits easily under most welding helmets, and their advanced Miller PAPR (Powered Air Purifying Respirator) designed to integrate with their Titanium 9400 helmet.
The Miller Half Mask Respirator
For most applications, the Miller Half Mask Respirator is an excellent choice. Its thin profile makes it easy to fit under most welding helmets and allows for maximum field of vision. The ergonomic design is comfortable and cool, and a four-point head strap makes it easy to dial in the perfect fit. Miller thought of everything with this respirator, including the materials it's made from—all medical grade, non-allergenic and completely free of silicone or latex.
The Miller Powered Air Purifying Repirator
For the ultimate in air purifying respirators, choose Miller's Powered Air Purifying Respirator. Much lighter and more comfortable than similar respirators from other brands, the Miller PAPR incorporates a HEPA filter with a lightweight blower and an ergonomic design for maximum comfort and protection even in the most adverse conditions. Its long-life (8 hours) lithium ion battery is lightweight and rated for over five hundred recharges, so you'll get plenty of use before it's time to replace.
Welders Supply offers Miller respirators, replacement filters and other Miller welding safety equipment at some of the best prices you'll find anywhere.