Share

Print
$10.30
$12.00
Reduced Price
You Save
$1.70
Add

$300.00

worth of items to your cart to qualify for

Kromer Welding Cap #A357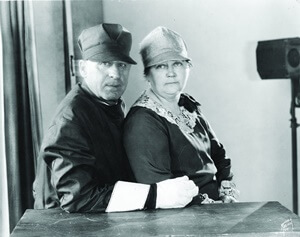 Admit it. Underneath your hardworking, no-bull, git'r done exterior there beats the heart of an All-American rebel. Time to show your other side, brother! The fabulous flame-on-black design of this Kromer American welding cap instantly says "Badass" while conjuring images of roaring down some lost highway in a classic muscle car. What's not to love?
Carrying on the noble tradition of quality hats first started by Wisconsinites George and Ida Kromer back in 1903, the Kromer American welding cap is made entirely in the U.S. of A by skilled union craftsmen. No flammable polyester junk here. Using 100% cotton and sturdy double-stitch construction, the good people of Kromer build this cap to last. A soft, absorbent cotton sweatband makes your time under the hood a little more comfortable. And the balloon top design is perfect for tucking in your freak flag or just snugging down over your ears for more protection against slag splatter.
Sure, George Kromer could never have imagined a 1960s muscle car paint job inspired American welding cap like this, but we're pretty sure he'd give it a tip of his ol' Kromer railroad hat.
Kromer Welding Cap Sizing Chart
The Kromer American welding cap is individually sized from 6 7/8 through 7 7/8 for a perfect fit. Below you will find a handy sizing chart that converts USA welding cap measurements to both inches and centimeters, among others.
Finding the correct hat measurement requires proper measurement of your head. Take a tape measure or tailor's tape and wind it around your head at the point where the band of a hat would fit. Make sure the tape is flush on your head and not twisted. You can also wind string around your head and then measure its length to find your head size.
Note: The Kromer American welding cap is intended to be worn under a welding hood, not in place of one.
See our full inventory of Safety Equipment for sale online today.
**PLEASE NOTE**
Due to popularity of this product, not all designs and sizes of the Kromer Cap are available. Please allow 4-6 weeks for delivery.
| | | | | | |
| --- | --- | --- | --- | --- | --- |
| Inches | USA Size | English Size | French Size | Centimeters | S/M/L |
| 19.52 | 6 1/4 | 6 1/8 | 1 1/2 | 50 | Child |
| 19.91 | 6 3/8 | 6 1/4 | 2 | 51 | Child |
| 20.30 | 6 1/2 | 6 3/8 | 2 1/2 | 52 | XS |
| 20.70 | 6 5/8 | 6 1/2 | 3 | 53 | XS |
| 21.09 | 6 3/4 | 6 5/8 | 3 1/2 | 54 | S |
| 21.48 | 6 7/8 | 6 3/4 | 4 | 55 | S |
| 21.88 | 7 | 6 7/8 | 4 1/2 | 56 | M |
| 22.27 | 7 1/8 | 7 | 5 | 57 | M |
| 22.66 | 7 1/4 | 7 1/8 | 5 1/2 | 58 | L |
| 23.05 | 7 3/8 | 7 1/4 | 6 | 59 | L |
| 23.45 | 7 1/2 | 7 3/8 | 6 1/2 | 60 | XL |
| 23.84 | 7 5/8 | 7 1/2 | 7 | 61 | XL |
| 24.23 | 7 3/4 | 7 5/8 | 7 1/2 | 62 | XXL |
| 24.62 | 7 7/8 | 7 3/4 | 8 | 63 | XXL |
| 25.02 | 8 | 7 7/8 | 8 1/2 | 64 | XXXL |
SHIPPING DIMENSIONS

Height:
1.00 Inches
Width:
10.00 Inches
Length:
11.00 Inches
Weight:
0 Lb(s) 4 Oz
Product Questions and Answers
Have a question about this product? Submit your question using the form below