Strong Hand Tools
Our more popular strong hand tools include:
Strong Hand Tools – Helping You Work Safely, Efficiently, Comfortably and Cost-Effectively

For over 30 years, Strong Hand Tools has been on a mission. Their objective: "Better Tools at Better Prices." From the looks (and prices) of their tool lineup, we have to say they're succeeding.
With input from real world welders, Strong Hand has re-engineered traditional tools to make them more functional and quicker to set up. The ingenuity of their patented Adjust-O magnetic clamp designs and the exceptional build quality show they clearly have a commitment to building clamping tools that make your work safer, more efficient, and of higher quality.
Welders Supply is pleased to offer a wide range of Strong Hand products. Magnetic squares, sliding arm clamps, pliers, vises and magnetic levels—you'll find them all here at Welders Supply, and at the lowest possible online price.
Strong Hand Products Available at Welders Supply
Magnetic Squares
Welding Magnets
Magnetic Levels
Clamps
Pliers
Welding Tables
Strong Hand Welding Magnets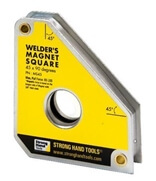 Strong Hand magnetic squares are easy to use and powerful enough for a wide range of holding/positioning applications. Whether you're a pro welder or a home hobbyist, you'll find plenty of uses for these squares.
Little details like a finger-sized hole for easier handling (even with welding gloves on) make a big difference, but there are plenty of other features worth mentioning. Like the fully enclosed design, for instance, so you never have to disassemble the unit for cleaning out debris and particles of metal from inside.
An On/Off switch makes positioning Strong Hand welding squares easy and also facilitates cleanup, with all metal particles shedding off the magnet when you power down. Transport is easier, too—no more opening your tool box to find screws, bolts and other odds and ends stuck to the magnet. And you'll never risk damaging an electronic device by an active magnet getting too close.
Strong Hand Clamps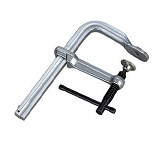 Strong Hand has a wide range of clamps, pliers and vises adaptable to just about every imaginable use, from light duty to heavy duty. We offer the most popular models for welding applications, including their patented 4-in1 Clamps, and we offer them at the lowest prices possible.
If there's a particular clamp (or other Strong Hand product) you're interested in, but don't see on our website, let us know. We can get it for you.