Miller Digital Infinity Series Auto Darkening Welding Helmets

SORT BY
Our more popular digital infinity series products include:
Miller Digital Infinity Series Auto Darkening Welding Helmets
The 2015 unveiled Miller Digital Infinity welding helmet has the largest viewing area of any and all welding helmets on the market to date. The focus of the Infinity Series design is comfort, innovation, and ease of use for the wearer.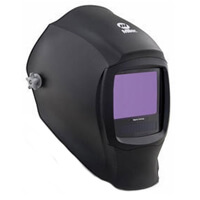 To achieve these goals Miller has filled the cushions of the helmet to be as full and at the same time as soft as is possible while still maintaining its light weight and durability. Miller has added several key features to the helmet, including Info Track technology, which tracks such information as the arc time, time itself, and timer with a multitude of language options to pick from. Four sensors allow for continual monitoring of the shading regardless of obstacles or low amp welding. Four different modes of operation allows the wearer to switch the helmet shading to accommodate welding, cutting, grinding and an x-mode. X-mode electromagnetically registers the weld to eliminate interfering sunlight while keeping track of the arc itself. This allows the helmet to be used for almost any and all jobs or purposes, while having large interactive digital controls to easily adjust its functionality. The lens automatically turns on and darkens at the event of an arc being struck, or off during times of inactivity providing easy and safe use by any who wear it.