Gas/Oxy Acetylene Cutting Tips and Hoses
Our most popular acetylene cutting tips and hoses are:
Shop all gas welding and cutting equipment available online at Welders Supply.
Welders Supply offers a great selection of Oxy/Acetylene, propane, and propylene torch kits, hoses and tips from top name manufacturers like Victor (makers of the TurboTorch), Smith and Miller. And when you buy from Welders Supply, you can always count on getting the lowest possible prices online.
Products from top name manufacturers like:
Victor
Miller-Smith
Miller
Airco/Concoa
Flametech
Gas Fuel Welding Is Alive and Well and Welders Supply Has What You Need
Oxy acetylene may be less commonly used than it was years ago, but it remains a viable—and cost-effective—welding and cutting process. In skilled hands, oxy acetylene torch welding can rival anything done with an electrically powered welder. Count un Welders Supply for all the equipment and supplies you need for oxy acetylene welding and cutting.
Free Shipping On Orders Over $300
One more thing to consider: With Welders Supply you get free shipping within the US on all orders over $300. So, if you're a little shy of the $300 mark, it might be a good time to pick up a few more supplies.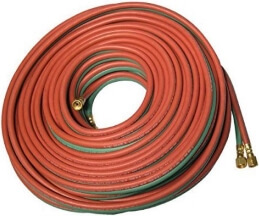 Contact Welder Supply Company at 1-844-682-0205 with all your gas weling and cutting equipment questions and we can get you set up with everything you need!