Share

Print
Product Number:
TDQ54830K1

People who bought this product were also interested in:
StrongHand Rhino Cart Package TDQ54830K1
Be ready for any build, repair, or assembly job with the Rhino Cart® Mobile Fixturing Station. Quickly clamp and fixture at any point on the reversible, heat treated surface, store your tools, and charge right through your projects. This package includes the Rhino Cart and 66 piece fixture kit.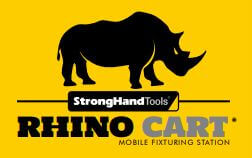 StrongHand Rhino Cart Package TDQ54830K1 Specifications
Hole Diameter: 5/8"
Grid Pattern: 2" x 2"
Tabletop Size: 48" x 30"
Tabletop Thickness: 5/8"
Table Height: 36"
Static Loading Capacity: 1,500 lb
Package Net Weight: 410 lb
Fixturing Kit Parts
| | | |
| --- | --- | --- |
| Part | Part Number | Quantity |
| Locate/Lock Ball Lock Bolt | #T55055 | 10 |
| Locate Locating Pin | #T54201 | 2 |
| Clamp Inserta Pliers,2.3" opening | #PTT522K | 2 |
| Clamp Inserta Pliers, 4" opening | #PTT632K | 2 |
| Clamp Inserta Clamp, 6.5" opening | #UDN5150 | 2 |
| Clamp Side Clamp, 1.5" stroke | #TCX5210 | 2 |
| Clamp Magnetic V-Clamp pad | #T54217 | 2 |
| Locate stop, 1" x 1.5 | #T54203 | 4 |
| Locate stop, 1" x 2" | #54205 | 4 |
| Locate/Support V-Block, 1.6" x .0" | #T54216 | 8 |
| Locate/Support V-Block Spacer, 1.58"x.4" | #T5421 | 4 |
| Stop/Extend Aluminum D-Stop Bar, 4.8" x 1" | #T50632-01 | 8 |
| Spacer Magnetic Rest Button, 1.5"x .45" | #T50737 | 12 |
| Stop/Support Right Angle Bracket, 2"x3"x1" | #T50304 | 2 |
| Stop/Support Right Angle Bracket, 4"x3"x1" | #T50305 | 2 |
SHIPPING DIMENSIONS

Height:
12.00 Inches
Width:
36.00 Inches
Length:
36.00 Inches
Weight:
500 Lb(s) 0 Oz