Miller FILTAIR® SWX-S Single-Arm Package #951517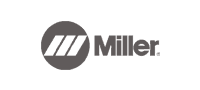 Miller FILTAIR® SWX-S (Self-Cleaning Filter) Single-Arm Package #951517, 10 ft. Standard Fume Extraction Arm
Miller's FILTAIR line of line of fume extraction systems are among the best in the industry at removing the toxic airborne particulates created by welding processes. This FILTAIR SWX-S Single-Arm Package includes a 10 ft standard extraction arm (no ZoneFlow) and is ideal for everything from independent fabrication shops to large-scale manufacturing environments.
The FILTAIR system is designed to be mounted on a wall or column near a workstation. The 10' arm allows for good reach to the work station, and the system can be augmented with a second 7 ft., or 12 ft. length arm, or a telescoping 3' to 4.5' arm, to address any unique fume extraction issues you may have in your work space.
MERV 15 Filter Rating for high-efficiency filtering
Filters in fume extraction systems are rated on the MERV (Minimum Efficiency Reporting Value) scale, which rates filter efficiency based on the size of airborne particulates they can trap. The MERV rating scale ranges from 1 to 16, with 16 being most capable of filtering the hazardous sub-micron oxide particles in welding fumes. Miller's proprietary FilTek XL filters carry a MERV rating of 15 and will filter up to 98% of weld fume particulates.
Miller's SWX self-cleaning filter cabinet makes cleaning the filter as easy as pushing a button on the control panel to initiate a one-minute cleaning cycle. Removed particles are collected in a disposal drawer that slides out so it can be easily emptied.


What's Included:
8 in. diam. x 10 ft. standard fume extraction arm
Backdraft dampers
Flexible duct (7 x 37 in.)
Mounting bracket for blower/arm
ZoneFlow motor control box
115 V on/off control box
115 V blower
Features Overview:

Easy-to-Operate Arm - Arm with external adjustments so air can pass through with less airflow resistance, giving you stronger CFM (airflow). It offers reliable and accurate positioning across the full range of motion of the arm, as well as easy adjustment and maintenance to ensure long-lasting operation. standard extraction arms are available in 7-, 10- or 12-foot lengths, or a 3' to 4.5' telescoping arm

Less Arm Movement - With a capture zone 3 times larger than traditional systems, users have less interaction with the arm, increasing arc-on time and productivity.

Class Leading Suction Power - High-performance fan generates 1,200 cfm and creates an Accu-Rated minimum of 875 cfm extraction at the hood to better capture weld fumes and provide a cleaner environment.

Dual Fan Capture Zone Control - Keep both sides of the fans turned on for a 360 degree capture zone or turn one side off to position next to a wall or curtain for a 180 degree capture zone.
Processes:
Stick (SMAW)
Flux-cored (FCAW)
MIG (GMAW)
TIG (GTAW)
Specifications
Filter Media
Accu-Rated™ Airflow
Extraction Arm Diameter
Sound Level
Motor
Power
Dimensions
Net Weight without Arm
490 sq. ft. (45.52 sq. m)
875 cfm (413 L/sec.)
8 in. (203 mm)
Standard
Approximately 75 dBA at 5 ft. (1.5 m)
ZoneFlow™
Approximately 80 dBA at 5 ft. (1.5 m)
1 hp, 3,450 rpm
Blow motor
115 V, 1-phase, 60 Hz at approximately 11.9 A
ZoneFlow™
115 V, 1-phase 60 Hz at approximately 12 A
H: SWX-D: 29 in. (737 mm)
H: SWX-S: 33 in. (838 mm)
W: 27.25 in. (692 mm)
D: 33 in. (838 mm)
Cabinet
SWX-D: 130 lb. (59 kg)
SWX-S: 195 lb. (88 kg)
Blower/bracket
95 lb. (43 kg)
SHIPPING DIMENSIONS

Height:
41.00 Inches
Width:
57.00 Inches
Length:
73.00 Inches
Weight:
468 Lb(s) 0 Oz
Product Questions and Answers
---
Q - This has the self-cleaning filter?
A - Yes, the "S" indicates self-cleaning. It has a one-minute cleaning cycle that works when you push a button on the control panel. It captures weld fume particles with a cleanable filter and deposits them in a particle bin in the unit. All you have to do is
Q - How far do the telescoping arms extend?
A - Up to 4 1/2 feet.
Have a question about this product? Submit your question using the form below
People who bought this product were also interested in: