Miller FILTAIR® SWX-S Single-Arm Package 951620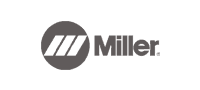 Miller FILTAIR® SWX-S (Self Cleaning Filter) Single-Arm Package #951620, 3-4.5 ft. Telescoping Arm
Miller's most affordable FILTAIR fume extraction system out-filters, outlasts and outperforms the competition.
Wherever there's welding being done, there's a toxic cocktail of submicron sized metal oxides wafting up from the workpiece and into the air. Without a fume extraction system, those particulates get breathed in and cause a wide range of health issues – from "metal fever" to lung cancer. Not surprisingly, OSHA requires fume extraction systems anywhere indoor welding is done.
The Miller FILTAIR SWX-S package shown here is a great solution for small fabrication shops and vocational training stations. This configuration uses a single, telescoping arm that extends from 3' to 4.5'. Miller's innovative self-cleaning filter is included with this package. Just press a button to activate a one-minute cleaning cycle, then slide out the disposal drawer and dispose of the collected particles.
This single-arm package can be mounted on a wall or column, and the easy-to-use telescoping arm is sized right for small spaces. The arm is pre-assembled, and extends easily from 3' to 4.5'. A durable bellmouth-shaped hood can be rotated 360-degrees for unlimited positioning possibilities. Miller designed the hood to capture weld fumes at a greater distance from the source than other hood designs allow, so you'll spend less time fiddling around with the hood position and more time welding.
This single-arm package is the most affordably priced FILTAIR package Miller offers, yet it offers class-leading suction power, superior filtering, and the convenience of a self-cleaning filter cabinet. With the option of adding a 7', 10' or 12' extraction arm, you also have the flexibility of mixing different arm types to solve unique fume extraction challenges.
What's Included:
8 in. diam. x 10 ft. ZoneFlow fume extraction arm
Backdraft dampers
Flexible duct (7 x 37 in.)
Mounting bracket for blower/arm
ZoneFlow motor control box
115 V on/off control box
115 V blower
Features Overview:
ZoneFlow™ Technology - Creates a negative pressure zone that funnels air to the center of the arm from greater distances. The arm features convenient 360-degree rotation for unlimited positioning and extended welding time.

Easy-to-Operate ZoneFlow™ Arm - Arm with external adjustments so air can pass through with less airflow resistance, giving you stronger CFM (airflow). It offers reliable and accurate positioning across the full range of motion of the arm, as well as easy adjustment and maintenance to ensure long-lasting operation. Extraction arms are available in 10- or 12-foot lengths.

Less Arm Movement - With a capture zone that is 3 times larger than traditional systems, users have less interaction with the arm, increasing arc-on time and productivity.

Class-Leading Suction Power - High-performance fan generates 1,200 CFM and creates an Accu-Rated minimum of 875 CFM extraction at the hood to better capture weld fumes and provide a cleaner environment.

Dual Fan Capture Zone Control - Keep both sides of the fans turned on for a 360-degree capture zone or turn one side off to position next to a wall or curtain for a 180 degree capture zone.
Processes:
Stick (SMAW)
Flux-cored (FCAW)
MIG (GMAW)
TIG (GTAW)
Specifications

Filter Media
Accu-Rated™ Airflow
Extraction Arm Diameter
Sound Level
Motor
Power
Dimensions
Net Weight without Arm
290 sq. ft. (45.52 sq. m)
875 cfm (413 L/sec.)
8 in. (203 mm)
Standard
Approximately 75 dBA at 5 ft. (1.5 m)
ZoneFlow™
Approximately 80 dBA at 5 ft. (1.5 m)
1 hp, 3,450 rpm
Blower motor
115 V, 1-phase, 60 Hz at approximately 11.9 A
ZoneFlow™
115 V, 1-phase, 60 Hz at approximately 12 A
H: SWX-D: 29 in. (737 mm)
H: SWX-S: 33 in. (838 mm)
W: 27.25 in. (692 mm)
D: 33 in. (838 mm)
Cabinet
SWX-D: 130 lb. (59 kg)
SWX-S: 195. (88 kg)
Blower/bracket
95 lb. (43 kg)
SHIPPING DIMENSIONS

Height:
30.00 Inches
Width:
36.00 Inches
Length:
59.00 Inches
Weight:
293 Lb(s) 0 Oz
Product Questions and Answers
---
Q - What is the suction power?
A - 875 CFM
Q - What is the filter rating on this?
A - It has a MERV 15 filter rating (ratings range from 1 to 16, with 16 being best at filtering small particles)
Have a question about this product? Submit your question using the form below
People who bought this product were also interested in: