Miller FILTAIR® 8in. x 12 ft. ZoneFlow™ Wall Mount Arm 951759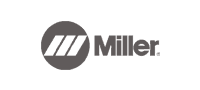 Miller FILTAIR® 951759 8in. x 12 ft. ZoneFlow™ Wall Mount Arm
Miller FILTAIR® systems are designed specifically for fume capture in welding environments. The extraction arms come pre-assembled for fast installation and are designed for convenient and easy operation. With an innovative extended-capture fume extraction system, the FILTAIR® can capture more fumes from further distances. This means it can stay out of your way and still do its job more effectively than other fume extractors. These wall-mounted arms are flexible and easy to adjust, so they can cover large areas with minimal adjustment. Pre-assembled extraction arms are available in 7-, 10-, or 12-foot lengths to fit your unique workspace.
The Miller FILTAIR® comes equipped with a variety of innovative technology:
ZoneFlow™ Technology
Creates a much larger capture area than existing source-capture products and minimizes arm interactions.
Miller FilTek XL Filter Technology
Miller FilTek XL Filter Technology is specifically designed for welding fumes. Miller filters outlast, out-filter, and outperform all the rest. Has longer filter life - up to 2 times that of treated cellulous filters. Superior filtering of up to 95% of weld fume particulates. FilTek XL's surface loading filters vs. competitors' depth loading filters gives Miller filters advantages that benefit you: Easier and more complete filter cleaning results in longer filter life. More efficient airflow through the filter results in lower operating costs and stronger suction power for a cleaner workspace.
Cleaner Air with FilTek XL Technology
Filters are rated on a MERV scale which measures filter efficiency based on particle count. MERV ratings range from 1 - 16, with 16 being the best at filtering small particles - such as those found in weld fume. Filters common in air filtration often have MERV ratings between 7 and 11. The SWX FilTek XL filter is rated at a class-leading MERV 15 to capture up to 95% of weld fume particulates!
Self-Cleaning (SWX-S) technology
FilTek XL's innovative surface loading Filter Technology and cleaning mechanism are designed to increase productivity and greatly increase filter life! Self-cleaning mechanism is easy to use. Just push a button to activate the pulse cleaning cycle that lasts about 1 minute. Surface loaded weld fume particulate is removed from the filter and safely deposited in the storage/disposal drawer.
Filter Pressure Gauge
A front panel Filter Pressure Gauge is easy to read with color-coded graphics. The gauge indicates when pressure drop increases and the filter needs to be replaced(SWX-D) or cleaned(SWX-S). Note: On the self-cleaning model, the filter gauge and cleaning control are mounted on a remote control box for easy access.
GENERAL SPECIFICATIONS
Title
FILTAIR® 8in. x 12 ft. ZoneFlow™ Wall Mount Arm
Nominal Airflow
875 CFM
Input Voltage
110/115/120 V
Input Phase
1-Phase
Input Hz
60 Hz
Sound Level at 5 Feet
80
Filter Media
490 ft²
45.52 m²
Extraction Arm Length
12 ft
SHIPPING DIMENSIONS

Height:
27.00 Inches
Width:
37.00 Inches
Length:
78.00 Inches
Weight:
90 Lb(s) 0 Oz
Product Questions and Answers
---
Q - What do I need to attach this to a wall?
A - You'll need the Extraction Arm Mounting Kit, #300952 for the 6", #300771 for the 8"
Q - What input voltage does this need?
A - it will run on 110, 115 or 120 V with 1-phase.
Have a question about this product? Submit your question using the form below
People who bought this product were also interested in: