Direct Wire Flex-A-Prene Welding Cable 25' #1/025, 50' #1/050, 75' #1/075, 100' #1/075, 150' #1/0150, 250' P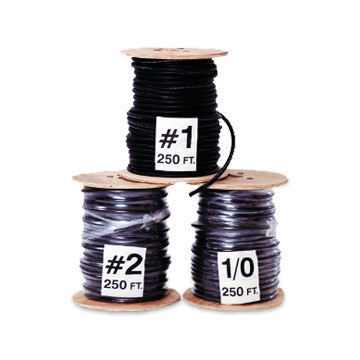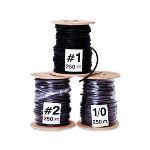 Share

Print
$77.00
$94.50
Reduced Price
You Save
$17.50
Add

$300.00

worth of items to your cart to qualify for

Direct Wire #1/0 Flex-A-Prene Welding Cable #1-0-25
Direct Wire #1/0 Flex-A-Prene Welding Cables from Welders Supply are available in many lengths: 25 feet Part #1/0 25; 50 feet Part #1/0 50; 75 feet Part #1/0 75; 100 feet Part #1/0 75; 150 feet Part #1/0 150 and 250 feet Part #1/0 250.
These welding cables have an outer diameter of 0.538." They have highly flexible annealed conductors of 30 ga bare copper. Their thick insulated EPDM coating is perfect for welding applications, as is the paper separator. Each cable is rated to 600 volts. The cables are very hardy, able to function in a wide range of extreme temperatures. Each cable comes coiled, boxed and shrink-wrapped. The rugged jacket resists abrasions, cuts, tears and flame. It also repels oil, grease and water. If caught in flame, the cable is self-extinguishing. Also, there is a Mylar separator to keep the cable insulation from sticking to the cable copper. Each cable is marked in sequence. The Direct Wire #1/0 Flex-A-Prene Welding Cables 1-0-25 from Welders Supply is RoHS compliant and complies with the National electrical code article 630 electric welders. All those benefits are yours…and it's made in the USA!
View our large selection of welding machine accessories with the greatest values online.
Product Questions and Answers
Have a question about this product? Submit your question using the form below