Miller Gloves

SORT BY
Miller Welding Gloves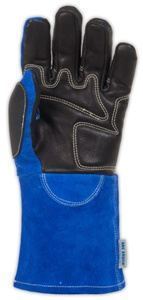 If you're looking for lasting quality, great fit and superior protection, just wait till you get your hands on a pair of Miller welding gloves. Made with select-grade leather and high-performance insulating materials, these welding gloves were designed for exceptional dexterity and flexibility. With gloves specifically designed for the unique demands of different types of welding and cutting, you are sure to find a pair for any job.
As part of their Arc Armor initiative launched in 2014, Miller has been redefining welder protection with a range of products—including gloves—designed for superior fit, performance and comfort. Welders Supply shares their goal of safer, more productive work sites and is pleased to offer these Miller welding gloves at some of the best prices you'll find anywhere.
Miller Welding Gloves Feature:
Top quality leather
High-performance insulating materials
Exceptional fit and flexibility
Incredible comfort
Shop our full selection of Miller Safety Equipment online at Welders Supply.