Welding Sleeves
Our more popular welding sleeves include:
Miller and Tillman Offer a Wide Array of Protective Sleeves
Miller and Tillman both design and manufacture welding sleeves which are lightweight, flame resistant and easy to position exactly as needed. Welders Supply is pleased to offer them to professional welders at the lowest available prices on the World Wide Web.
Miller Sleeves Are Well-Designed and Easy To Adjust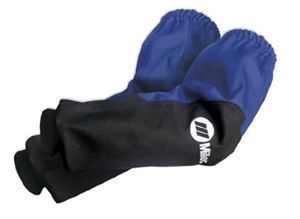 Miller Classic Cloth Cape Sleeves have a wide elastic band at the top of each sleeve so you can adjust them easily to get the exact fit you want. Even the cuffs resist flame. The hems are finished with reinforced stitching. The Barracuda style stand-up collar gives extra neck protection. These sleeves last a long time, providing protection all the way. One thing for sure is you'll get the size you need – everything from small all the way to 5XL!
Standard Miller Classic Cloth Sleeves are 18 inches long and made from 9 oz. flame-resistant Navy cotton. Other excellent values are Miller Indura Welding Sleeves -- guaranteed flame-resistant for their entire lifetime. The tough fabric is preshrunk, so they won't feel smaller after a few washings.
Miller WeldX Cape Sleeves come in six sizes from small to 3X. The front and sleeves are made with seven-ounce WeldX fabric. The back is nine-ounce cotton. A WeldX bib accessory can be attached along the chest. The sleeves are machine washable with no loss of durability. Standard Miller WeldX Sleeves are long-lasting and effective, made of seven-ounce WeldX fabric with an eighteen-inch sleeve length. They are chromium-free for easier disposal.
Tillman Sleeves Offer Excellent, Affordable Protection
Tillman Fire Resistant Cotton Green Cape Sleeves are made with 9 oz., green flame retardant cotton. They protect shoulders, upper chest, and arms from sudden flame exposure, light welding or sparks.
The Tillman Leather Cape Sleeves protect your chest, shoulders, and sleeves. They are made with bourbon brown premium side split cowhide cape. Each has a 20" leather bib or an optional fourteen-inch bib. The leather-reinforced ionized button snaps prevent arc flashback. The leather is soft, comfortable and pliable -- specially tanned for improved heat resistance. There is also a soapstone pocket on each sleeve. The back is open for more ventilation.
Over the years, Welders Supply has developed excellent relationships with leading manufacturers. We constantly seek the best prices from suppliers and pass these savings directly on to you. It's why Welders Supply is your best source for great products at low prices.
Check out more of our Tillman Welding Sleeves for more quality welding protection.
Lowest Online Prices for Welding Apparel and Free Shipping on Orders Over $300
Low prices are great, but Welders Supply sweetens the deal with free shipping within the continental US on all orders over $300. If your total is under $300, consider adding a few essentials you know you'll end up having to buy within a few months. That way you can take advantage of our free shipping offer.
Contact the welding professionals at Welders Supply today for the lowest prices on top-quality protective welding apparel.