Hypertherm Powermax 85 SYNC Plasma Cutters
Powermax 85 vs the new Powermax 85 SYNC: What's New?
Hypertherm's new Powermax 85 SYNC has replaced the now-discontinued Powermax 85, bringing with it a suite of new functionality. Using a compatible SmartSYNC torch, operators can now adjust amperage and power on handheld torches without returning to the power supply. Say goodbye to the guesswork and imperfect cuts caused by the complicated five-piece consumable stack too. The all-new SmartSYNC consumable cartridges easily twist on and off, are color-coded by use and labeled by amperage, and will notify you when they have reached the end of their lifecycle.

SORT BY
Hypertherm Powermax 85 SYNC Plasma Cutters
The Powermax85 SYNC™ is a next-generation professional-grade air plasma cutter that dramatically simplifies system operation for cutting and gouging up to 25 mm (1″). Features automated system process set-up via advanced RFID-enabled SmartSYNC™ torches and a revolutionary single-piece cartridge consumable that provides trackable utilization data. The Powermax85 SYNC maximizes productivity through reductions in downtime, optimized cut quality performance and streamlined consumable inventory management.
Easy to use
Minimize operation costs
Maximize performance
Industry-leading reliability
Attachment and Torch Options
Hypertherm SmartSYNC Torches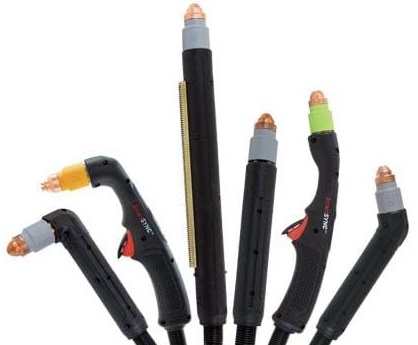 SmartSYNC torches feature RFID capability that when coupled with a Hypertherm cartridge will communicate with a Powermax SYNC system to automatically set the amperage and process on the power supply. Available in handheld, mechanized and robotic torch configurations.
Hypertherm SmartSYNC Cartridges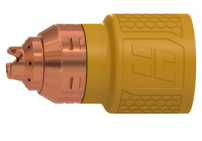 The Hypertherm cartridge consumable platform is a revolutionary change to standard air plasma consumables. Each single-piece cartridge is optimized by process and amperage to ensure performance while dramatically simplifying the parts needed to cut or gouge with plasma.
All Hypertherm Powermax 85 SYNC Models

Power Supply Only
With Handheld Torch
With Machine Torch
Handheld Only
CPC Port
CPC & Serial Port
Compare Hypertherm Powermax 85 vs 85 SYNC Specs

Product

Price
Discontinued
$$$$
Cut Capacity
1-1/4"
1"
Output Current
25-85 A
20-85A
Duty Cycle*
60% @ 85 A, 230-600 V, 3-PH
60% @ 85 A, 480 V, 1-PH
50% @ 85 A, 240 V, 1-PH
50% @ 85 A, 200-208 V, 3-PH
40% @ 85 A, 200-208 V, 1-PH
100% @ 66 A, 230-600 V, 1/3-PH
60% @ 85 A, 230 – 600 V, 1/3-PH
60% @ 85 A, 480 V, 1-PH
50% @ 85 A, 240 V, 1-PH
50% @ 85 A, 200 – 208 V, 3-PH
40% @ 85 A 200 – 208 V, 1-PH
100% @ 66 A, 230 – 600 V, 1/3-PH
Weight
71 lbs (25' torch)
67 lbs (25' torch)
Power Supply
IGBT Inverter
IGBT Inverter
Compatible with SmartSYNC Consumables?
With Adapter
Yes
Compatible with SmartSYNC Torches?
No
Yes