The Hypertherm Powermax SYNC Series Has Arrived
Powermax SYNC: Revolutionary Plasma Cutting System
Hypertherm's Powermax SYNC Series is the latest in plasma cutter innovation, delivering unparalleled ease of use and clean cuts every time. The five-piece consumable stack has been replaced with a single consumable cartridge, eliminating the guesswork involved with replacing consumables. With the new SmartSYNC plasma cutting torches, you can change your power output without having to return to the power source. The future of plasma cutting has arrived.
Maximum Performance with Lower Operating Costs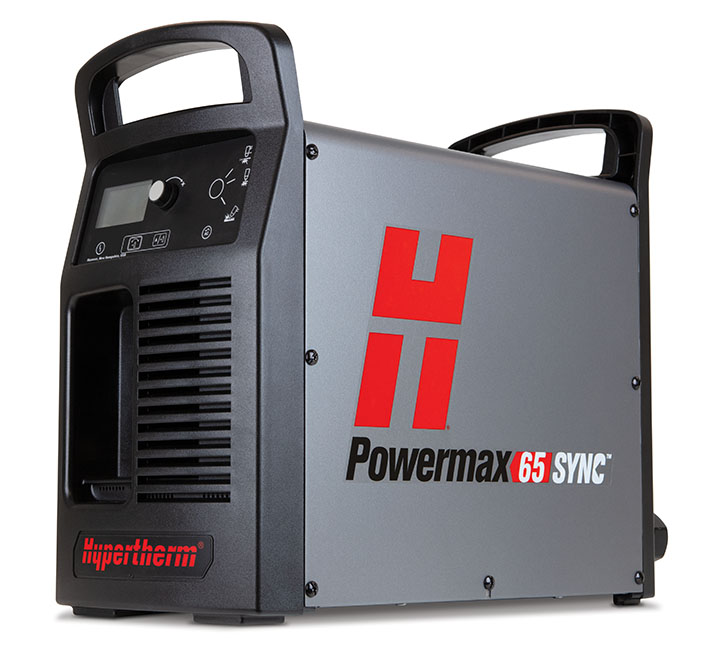 The Hypertherm Powermax SYNC line of plasma cutters, torches and consumables features built-in intelligence and a revolutionary single-piece cartridge consumable. Advanced torch communication enables automated process setup and amperage adjustment without returning to the power supply. The available cartridge reader accessory pairs with Powermax SYNC smartphone app to analyze performance data such as starts, transfers and arc-on time. The simplified operation minimizes downtime, troubleshooting, waste, and training time.
Dramatically Simplified Consumables
Traditional plasma cutters use a complicated stack of consumable pieces, each of which must be inspected regularly to guarantee optimal performance. Powermax SYNC plasma cutters use easy-to-identify single-piece SmartSYNC cartridge consumables that are color‑coded by process to eliminate confusion and simplify consumable inventory management. The new SmartSYNC torches with the Hypertherm cartridge automatically set the correct amperage and operating mode, eliminating setup errors.
Hypertherm Powermax 65 SYNC vs 85 SYNC vs 105 SYNC
Compare Hypertherm Powermax SYNC plasma cutting machines:
Product
65 SYNC
85 SYNC
105 SYNC
Variations
Power Supply Only

25ft Hand Torch

25ft Mechanized Torch
Power Supply Only

25ft Hand Torch

25ft Mechanized Torch
Power Supply Only

25ft Hand Torch

25ft Mechanized Torch
Price
$$$
$$$$
$$$$$
Cut Capacity
25 mm (1")
32 mm (1-1/4")
38 mm (1-1/2")
Cut Speed
10 ipm
20 ipm
20 ipm
Weight
61 lbs
67 lbs
95 lbs
Output Current
20 - 65 A
25 - 85 A
30 - 105 A
Duty cycle @ 40°C (104°F)
50% @ 65 A, 230 – 600 V, 1/3-PH
40% @ 65 A, 200 – 208 V, 1/3-PH
100% @ 46 A, 230 – 600 V, 1/3-PH
60% @ 85 A, 230 – 600 V, 1/3-PH
60% @ 85 A, 480 V, 1-PH
50% @ 85 A, 240 V, 1-PH
50% @ 85 A, 200 – 208 V, 3-PH
40% @ 85 A 200 – 208 V, 1-PH
100% @ 66 A, 230 – 600 V, 1/3-PH
70% @ 105 A, 240 V, 3-PH
80% @ 105 A, 480 - 600 V, 3-PH
100% @ 94 A, 480 - 600 V, 3-PH
100% @ 88 A, 240 V, 3-PH
Hypertherm Powermax Plasma Cutters For Professional Welders
Powermax plasma cutters from Hypertherm are designed for maximum versatility and reliability. Hypertherm plasma cutters can be used in both handheld and mechanized configurations. SmartSync hand torches are available in 20 foot or 50 foot lengths and mechanized torches are sold in a 25 foot length. Water-cooled torch nozzles extend the lifespan of consumables and save you money. The 65 SYNC, 85 SYNC and 105 SYNC models support the following applications:
Drag cutting
Extended reach cutting and gouging
Fine feature cutting
Flush cutting
Max control gouging
Max removal gouging
Mechanized cutting
Hypertherm Powermax SYNC Dealer: Get the Best Prices on Plasma Cutters & Accessories
Welders Supply offers domestic and international shipping for all of our products. Order plasma cutters and other plasma cutter accessories from Welder Supply today and have them shipped directly to you. We keep our customers in the U.S., Canada, South America, Europe, Australia and Asia well-supplied with the tools and equipment they need.