DeKalb Gas Cylinder Refills and Welding Supplies
Gas Delivery, Gas Cylinder Exchanges & Tank Rental for Northern Illinois
Welders Supply Company sells, exchanges, and delivers gas cylinders to DeKalb area locations from our Rockford, IL welders store. Get prices or place an order by calling 779-208-4055.
Rockford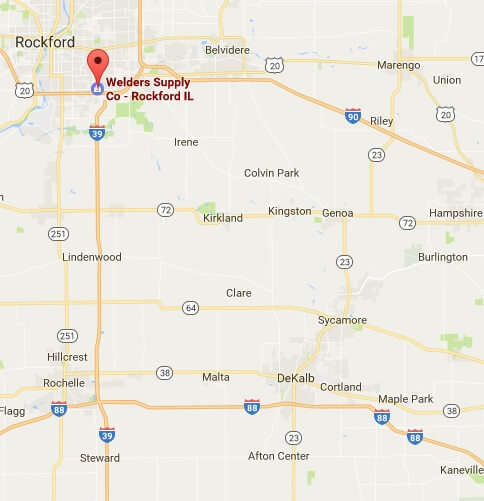 3485 Brick Drive
Rockford, IL 61109
779-208-4055
We also supply distribution systems, mixing systems, and telemetry tank monitoring in cylinder, bulk, and micro-bulk modes for pure gases and gas mixtures.
Buy or rent gas tanks, exchange empty cylinders for refills, or get same-day gas delivery. We sell and exchange gas cylinders to customers throughout the DeKalb area, including Sycamore, Genoa, Rochelle, Hampshire, Marengo, Algonquin, Huntley, and many other locations!
Contact Welder Supply for more information!
Please note: Free shipping offer does not apply to gas orders placed in-person or over the phone.
Find Industrial and Specialty Gases for DeKalb at Welders Supply
Welders Supply Company provides a full array of gases for industrial and specialty use, including:
• Welding and cutting
• Pressure testing
• Blanketing and purging
• Beverage Carbonization
• Medical gases
• Aluminum degassing
• AND MORE
Make Welders Supply your one-stop shop for everything welding and enjoy the best prices and friendly, knowledgeable customer service. We carry welding machines, plasma cutters, welding helmets, and many other kinds of welding equipment and accessories in all the major brands.
Contact Welders Supply online or call our store location for gas cylinder delivery to the DeKalb area!