Milwaukee Gas Cylinder Refills and Welding Supplies
Gas Delivery, Gas Cylinder Exchange & Tank Rental for Milwaukee
For businesses and professionals located in or around Milwaukee, Welders Supply Company delivers gas cylinders and their refills to your convenience. You can call us at 262-662-3339 or toll free 1-888-491-9353 to schedule a fast Milwaukee delivery or visit our Big Bend, Wisconsin gas exchange store!
W230 S7720 Hwy. 164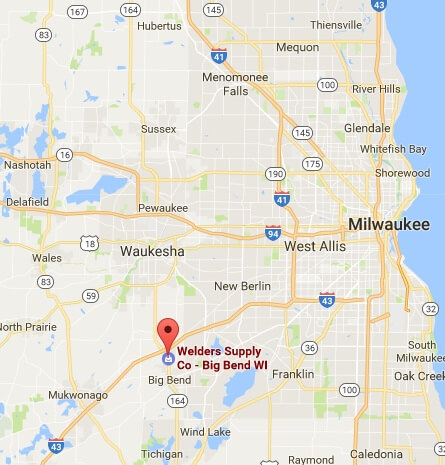 Big Bend
, WI USA
53103
262-662-3339
We have a number of distribution and mixing systems in stock at our Big Bend store, and a full selection of pure and mixed gases in stock now - including gas mixtures for welding stainless steel!
Our most popular cylinder gases include:
Buy or rent gas tanks, exchange empty cylinders for refills, or get same-day gas delivery. Welders Supply provides delivery to a number of areas around Milwaukee including Whitefish Bay, West Allis, South Milwaukee, Greenfield, New Berlin, & Franklin.
Please note: Free shipping offer does not apply to gas orders placed in-person or over the phone.
Buy Specialty Gases & Welding Equipment in Milwaukee
Selling and exchanging a full selection of gas cylinders, Welders Supply Company helps support a number of industries, such as:
Laser Assist Gases
Beverage Carbonization
Food Packaging
Medical
Heat Treating
AND MORE
Welders Supply is your one-stop shop for everything you need to get the job done, with low prices on welding machines, welding helmets, and plasma cutters.