Waukegan Gas Cylinder Refills and Welding Supplies
Gas Delivery, Tank Rental & Gas Cylinder Exchange for Waukegan & Northern Illinois
Welders Supply Company sells, exchanges, and delivers gas cylinders to many Waukegan-area locations out of our Crystal Lake gas store. Call for prices or same-day gas delivery at 815-261-9100 or visit our nearby Crystal Lake store.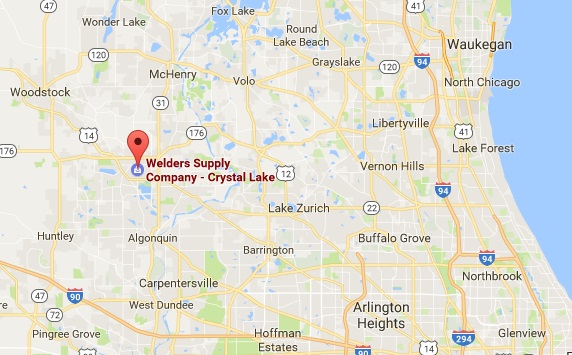 Crystal Lake
Welders Supply carries pure and mixed gases, distribution systems, mixing systems, and telemetry tank monitoring in stock now. Explore all the pure
gases and gas mixtures
we sell and access MSDS's.
Buy or rent gas tanks, exchange empty cylinders for refills, or get same-day gas delivery.
Please note: Free shipping offer does not apply to gas orders placed in-person or over the phone.
We sell and refill gas cylinders throughout the Waukegan area, including Gurnee, Wauconda, North Chicago, Mundelein, Libertyville, Green Oaks, Lake Zurich, Volo, and many more northern Illinois locations!
Industrial and Specialty Gases near Waukegan
Welders Supply Company offers a full selection of gases used in many industries, including:

• Welding and cutting
• Beverage carbonization
• Fork truck propane
• Heat treating
• Medical gases
• Aluminum degassing
• AND MORE
Welders Supply has all the equipment and gas you need, conveniently gathered under one roof, for a rock-bottom price. Our friendly customer comes from fellow welders, and you'll deal with real people whether you contact our online store or Crystal Lake location near Waukegan.
Shop for welding machines online or call our Crystal Lake store for gas cylinder delivery in northern IL!