Share

Print
$2,289.00
$2,902.00
Reduced Price
You Save
$613.00
CALL or CHAT

for more options

CALL or CHAT

for more options

Miller Diversion 180 With Foot Pedal #907627
The new Miller Diversion 180 TIG welding machine features the latest inverter technology. Less energy is used and a more consistent welding arc is provided by using an inverted AC/DC power source. This is a big improvement in arc quality and energy consumption compared to older transformer based TIG machines.
Using the Miller Diversion 180 AC/DC TIG Welder
We've simplified the process even further by providing an easy 3-step system to get started welding. All you have to do is:
Power up the machine
Select material type
Set the material thickness
And you're ready to start welding. This new Miller TIG welding machine also features a new digital display so you know exactly what your settings are. The streamlined and easy-to-use operator interface make this welder an excellent choice for hobbyists, students, and TIG welding trainees, but has the versatility and power for more advanced welders.
The handle-integrated amperage controls make varying the power output extremely easy. This allows for a wide variety of welding of complicated workpieces without having to walk back and forth between the welding machine and work area.
This Miller TIG welding machine delivers consistent gas tungsten arc welding with reliable power output. If you have too much amperage it will cause the filler to splatter and create a costly mess. However, a low amperage has the potential to cause the filler rod to prematurely solidify. Accurate amperage settings reduce the chance of metal splatter and sticking filler rods.
This Miller TIG welder can easily weld anything from heavy steel plates to thin aluminum machine parts. It operates between 10 and 165 amps. The Diversion 180 welder features smooth carrying handles for outstanding portability and worksite flexibility. At only 50 pounds it is also very lightweight.

View all Miller Welding and Cutting Products
Try these accessories with your new Miller Diversion 180 Welder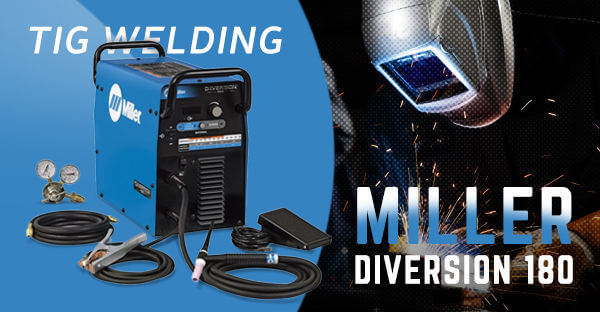 Utilizes Latest Inverter Technology
By utilizing an inverter-based AC/DC power source, a more efficient (less energy is used) and consistent welding arc is provided than older transformer based machines.
Light Weight = Portability
Whether it's in the shop, garage or at the race track, at only 50 lbs it can be taken anywhere. You can't do that with those heavy transformer machines!
Eliminate Waste of Expensive Shielding Gas
Our Auto-Postflow feature optimizes post flow time based on welding amperage. This allows for proper shielding of both the weld end zone and electrode every time without waste of gas or need for adjustment.
Use It On 115 AND 230 Volt Input Power
Miller's exclusive Multi-Voltage Plug (MVP™) allows you to connect to common 115 or 230 V power receptacles without the use of any tools. Simply chose the plug that fits the receptacle and connect it to the power cord.
Reduce Noise, Maintenance and Operating Costs.
Our Fan-On-Demand™ cooling system only operates when needed. This cuts down on fan noise, along with reducing power consumption and contaminants drawn into the machine.
Dependable Arc Starts
Provides HF, non-contact arc starting to eliminate tungsten and material contamination time after time.
Applications
Aluminum Welding
Home/Hobby
Metal Art/Sculpture
Motorsports (car, truck, bike, etc.)
Schools/Training
Stainless Steel Welding
Welding Projects
Shop no more! Welders Supply Company has the best prices on Miller welders on the WEB!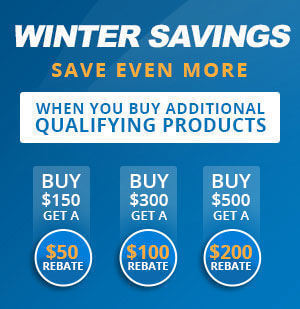 Miller Diversion 180 AC/DC Specifications

Input Power

115/230 Volts, 1-Phase, 50/60 Hz

Rated Output

60 Amps at 12.4 V, 100% duty cycle (230V input)

150 Amps at 16 V, 20% duty cycle (230V input)

180 Amps at 16 VDC, 10% duty cycle (230V input)

60 Amps at 12.4 V, 100% duty cycle (115V)

125 Amps at 12.4 VDC, 35% duty cycle (115V input)

Welding Amperage Range

10 -180 Amps (230V input)

10-125 Amps (115V input)

Applications

Personal User Applications

Chassis/frame fabrication

Aluminum oil pans

Stainless exhaust

Weld repair on home equipment

Metal art

Vocational training

Process

TIG (GTAW)

Max Open Circuit Voltage

80 VDC

Net Weight

50 lb (23 kg)

Net Length

23.875 in. (608 mm)

Net Height

17 in. (433 mm)

Net Width

9.875 in. (251 mm)
SHIPPING DIMENSIONS

Height:
14.00 Inches
Width:
21.00 Inches
Length:
27.00 Inches
Weight:
63 Lb(s) 8 Oz
---
Have a question about this product? Submit your question using the form below
People who bought this product were also interested in: