Eyewear
Our most popular eyewear includes:
Flexible Face Shields from Sellstrom Available With Two Lens Shades
Also see: "Welding Helmets"
Sellstrom DP4 Multi-Purpose Face Shields are available with either a Shade 5 or Shade 8 lens. They let you conveniently handle a variety of work, including grinding, brazing or flame cutting. Each shield has a practical, clear and safe multi-purpose polycarbonate shield, curved to eliminate distortion while providing total clarity through a molded anti-fog window. This headgear lets you do easy and clear work under even tough conditions.
Gateway Safety Glasses Combine Safety with Ultra-Modern Design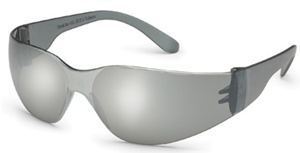 Gateway Safety Glasses won't distort your vision around the edges of the lens. They are incredibly clear and comfortable -- ultra-light with an ultra-modern design. Elastic temples relieve pressure behind the ears. The lenses have an anti-scratch coating. The wrap-around design provides complete protection with no distortion. Gateway Luminary Safety Glasses come in three models -- black frames/clear lenses, black frames/clear anti-fog lenses and silver mirror frames/lenses. The Gateway StarLite Safety Glasses are available with six different lenses/frames -- clear, amber, blue, Pacific blue, clear/anti-fog and silver. A model is also available with a mag lens.
Jackson Nemesis Safe Glasses Come In Several Styles
Jackson Nemesis Safety Glasses are available with six different lens colors -- silver mirror, amber, blue mirror, clear anti-fog, clear and indoor/outdoor. Another traditional safety glasses model has a smoke/mirror coloration for both the frames and lenses.
Miller Clear Safety Glasses Offer Protection, Comfort and Style
Miller Safety Glasses feature a reflective outer coating to deliver ultraviolet protection and improved contrast with minimal glare. The orbital eye coverage is form-fitting for enhanced protection. The polycarbonate lenses are shatterproof with an anti-scratch coating. Miller Shade 3.0 Safety Glasses or Miller Shade 5.0 Safety Glasses both come with black, blue, orange frames. Miller Smoked Safety Glasses are available with either black or blue frames.
For the finest welding apparel and clothing products at the lowest prices on the internet, contact the welding professionals at Welders Supply.