Best Welding Helmets for Beginners

SORT BY
Welding Helmets for Beginners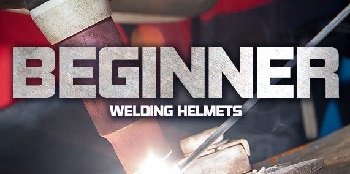 Novice welders looking for a decent helmet will find plenty of options at Welders Supply. As with everything else, the helmets with more advanced technology are going to cost more. If you're just starting out and all your welding will be with a single material of uniform thickness using the same welding process, you can probably get by with a fixed shade lens—which are the most affordably priced helmets we offer.
While standard (fixed shade) lens helmets are affordably priced, they don't offer the same degree of eye protection as auto-darkening lens helmet, which automatically darken based on the brightness of the arc. Auto-darkening helmets are also easier to use and most provide a better field of view than fixed lens helmets. If you're considering auto-darkening helmets, one thing you'll want to compare is the switching speed of the lens.
Another important (and often overlooked) factor to consider is helmet weight. Your helmet is constantly weighing down your neck, so a lightweight helmet is a real plus. A heavy helmet quickly becomes a real pain in the neck, and even your back.
Weighing all the pros and cons of helmets requires some research, so we include specs on all the helmets we offer. To jump start your search, we've highlighted helmets with differing levels of technology and varying price points. If we can help you out by answering any questions you may have, give us a call or contact us online.
Lowest Prices Possible & Free Shipping to the Lower 48
Putting together a welding kit on a beginner's budget isn't easy, but Welders Supply has your back with the lowest possible prices and free shipping on orders over $300 (within the lower 48 states).