Hypertherm Duramax Hyamp Torch Assembly #059492

Hypertherm Duramax HyampTorch Assembly #059492 Has Superb Design
The Hypertherm Duramax Torch Assembly #059492 is a well-designed, superbly manufactured product which provides outstanding versatility. Professional welders can rely on this torch when they select a tool for a particular welding job. Duramax Torches provide greater versatility and enable operators to select the perfect tool for the project.
Hypertherm Is an Outstanding Worldwide Supplier of Cutting Products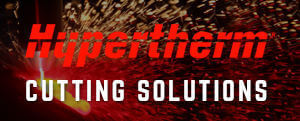 Hypertherm has earned a worldwide reputation for dependability, quality and outstanding design. The company is entirely focused on providing the best cutting solutions for the industry. They have secured numerous patents for new plasma cutters, laser equipment and waterjet technologies. Their products are used throughout the world in every imaginable cutting or gouging application. Welders Supply is proud to offer these outstanding Hypertherm hand and machine products at great prices.
Hypertherm Duramax 85 Degree Hand Torch Assembly 125A 25 Foot Specs

Input voltages

CSA

480/600 V, 3-PH, 50/60 Hz

CE
CCC

Input current @ 21.9 kW

300/400/480/600 V, 38/36/31/24 A

Output current
Rated output voltage
Duty cycle @ 40°C (104°F)
Open circuit voltage (OCV)

400/600 CSA: 320 VDC
380 V CCC: 290 VDC
400 V CE: 305 VDC

Dimensions with handles

592 mm D; 274 mm W; 508 mm H (23.3" D; 10.8" W; 20.0" H)

Weight with 7.6 m (25') torch

480 V, 47,9 kg (105.7 lbs)
600 V, 47,5 kg (104.7 lbs)
380 V, 45,2 kg (99.6 lbs)
400 V, 48,9 kg (107.8 lbs)

Gas Supply

Clean, dry, oil-free air or nitrogen

Recommended gas inlet flow rate / pressure

Cutting: 260 l/min (550 scfh) @5.9 bar (85 psi)
Gouging: 212 l/min (450 scfh) @4.1 bar (60 psi)

Input power cable length

3 m (10') not available on some CCC models

Power supply type
Product Questions and Answers
---
Q - What gas supply do you need with this torch?
A - Clean, dry, oil-free air or nitrogen.
Q - Which Powermax plasma cutters is this compatible with?
A - The Powermax 65, 85, 105, and 125.
Q - Can this be used with a CNC machine?
A - No, this is a hand torch. What you need is a machine torch for your plasma cutter.
Have a question about this product? Submit your question using the form below
People who bought this product were also interested in: