Hypertherm Powermax 65 Plasma Cutter With 25ft Hand Torch #083270

This bundle includes the Powermax 65 and the standard 75° Duramax Hand Torch with a 25' lead. Optional torches include a 15° Duramax hand torch, a 180° mini machine torch, and a 180° full-length machine torch. Duramax hand torches are all built with heat and impact-resistant handles to maximize productivity and service life.
---
A Powerful Cutting Machine
The Hypertherm Powermax 65 incorporates proprietary Hypertherm innovations that enable you to do more than ever before. With features like Smart Sense™ technology to automatically adjust gas pressure, and a mechanized hand torch control panel with an LCD screen for easier operation, the Powermax 65 maximizes productivity.
Designed for heavy-duty cutting and gouging on demanding jobsites, the Powermax 65 offers four Duramax™ torch styles so you can choose just the right tool for the job.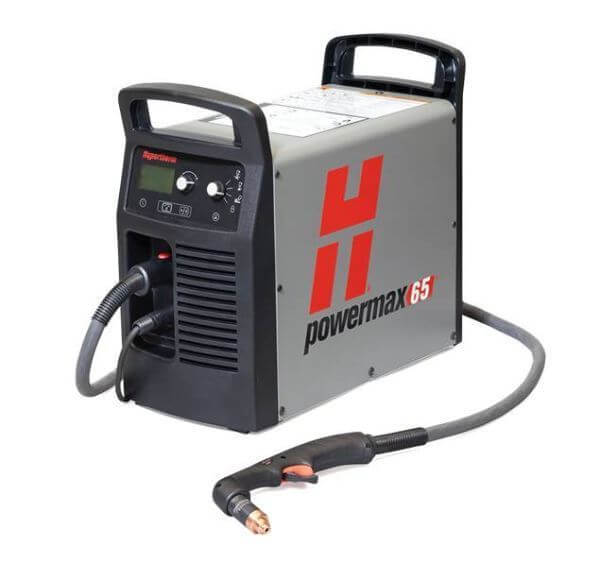 ---
Key power supply advantages of Hypertherm Powermax 65
Smart Sense™ technology automatically adjusts the gas pressure according to cutting mode and torch lead length for optimal performance.
Boost Conditioner™ circuit (on CSA models) improves performance on low-line voltage, motor generators, and fluctuating input power.
FastConnect™ torches, optional CNC interface, and four work lead styles increase versatility for handheld and mechanized use.
Simplified control panel with LCD screen for easy operation.
Key torch advantages of Hypertherm Powermax 65
15° and 75° Duramax™ series hand torches enable operators to easily select the right tool for the job. The handle is more heat resistant and performs at least five times longer in high-impact tests than previous torches.
Standard and short-barreled Duramax series machine torches are available, allowing a wide variety of mechanized applications with X-Y tables, track systems, pipe and robotic cutting systems.
Conical Flow™ nozzle increases arc energy density for superior cut quality with little dross.
Patent-pending shield reduces dross buildup and enables smoother drag cutting for a better cut.
You want to make sure that your product works the way it should and Hypertherm Warranty can help you there. Be sure to register your Hypertherm Product.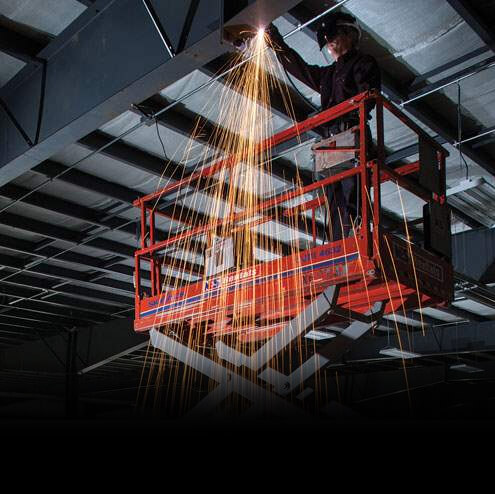 ---
View the Hypertherm Powermax 65 accessories: replacement torch, retaining cap, swirl ring, electrode, shield deflector, parts kit and more!
Compare among Powermax 65 plasma cutter by Hypertherm vs 30xp, 45, 85, 105 and 125.

View all Hypertherm Powermax Plasma Cutters
Hypertherm Powermax 65 Specifications

Output current

20-65 AC

Rated output voltage

138 VDC

Open circuit voltage (OCV)

295 VDC

Dimensions with handles

19.7" D; 9.2" W; 17.9" H

Gas Supply

Cutting & Gouging: air (clean, dry and oil-free), nitrogen

Recommended gas inlet flow rate / pressure

Cutting: 400 scfh; 6.7 scfm @ 85 psi Gouging: 430 scfh; 7.5 scfm @70 psi

Input power cable length

25'

Power supply type

Inverter - IGBT

Cuttable metals

Aluminum, Mild Steel, Stainless Steel

Cut Capacity

3/4" (20mm) at 500 mm/min (20ipm) or 1" (25mm) at 250 mm/min (10ipm)

Engine drive requirement

15kW for full 65 A output

Recyclability

100%

Warranty

Power supply: 3-year Torch: 1-year

Certifications

CSA certified for use in Americas and Asia, except China. CCC for use in China. CE, REM, GOST-TR, ukrSEPRO, and Serbian AAA for use in Europe, Austrailia, Belarus, Kazakhstan, Russia, Serbia, Ukraine, and other countries where accepted
Hypertherm Powermax 65 Certifications

Input voltages (± 10%)

CSA

200 – 240 V, 1-PH, 50-60 Hz

480 V, 3-PH, 50-60 Hz

CE/CCC

230 V, 1-PH, 50-60 Hz

400 V, 3-PH, 50-60 Hz

Input Current @ 5.95 kW

CSA

200/240 V, 1-PH, 39/32 A

480 V, 3-PH, 9.4 A

CE

230 V, 1-PH, 33 A

400 V, 3-PH, 10 A

Duty cycle @ 40°C (104°F)

CSA

50% @ 45 A, 200 – 240 V, 1-PH

60% @ 41 A, 200 – 240 V, 1-PH

100% @ 32 A, 200 – 240 V, 1-PH

50% @ 45 A, 480 V, 3-PH

60% @ 41 A, 480 V, 3-PH

100% @ 32 A, 480 V, 3-PH

CE/CCC

50% @ 45 A, 230 V, 1-PH

60% @ 41 A, 230 V, 1-PH

100% @ 32 A, 230 V, 1-PH

50 % @ 45 A, 400 V, 3-PH

60% @ 41 A, 400 V, 3-PH

100% @32 A, 400 V, 3-PH

Weight with 6.1 m (20') torch

CSA

14 kg (31 lbs)

CE

15 kg (33 lbs)
Hypertherm Powermax 65 PDFs
Product Questions and Answers
---
Q - Does this come with ports to connect to a CNC machine?
A - Yes, all Powermax 65s have CPC ports.
Q - How big an air compressor do I need for this?
A - The minimum air compressor required would need to be 7.5 cfm at 90 psi.
Q - Where are these made?
A - New Hampshire.
Q - What voltage for these?
A - 200 - 480 V, 1-PH, 50/60 Hz 200 - 600 V, 3-PH, 50/60 Hz
How to set the five-position voltage divider:
Turn off power.

Turn off power supply and disconnect the power cord.

Remove cover.

Remove the power supply cover.

Locate DIP switches.

Locate the voltage divider DIP switches on the left side of the power supply.

Set DIP switches.

Set the DIP switches to one of the following settings and replace the power supply cover.
Have a question about this product? Submit your question using the form below
People who bought this product were also interested in: