Shop 1" Plasma Cutters Below for BEST Pricing Online
Our most popular 1" and higher capacity plasma cutters include:
1" and Higher Capacity Plasma Cutters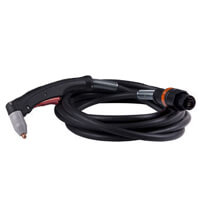 Here at the Welders Supply Company we only sell the best plasma cutters on the market. All of which has been done to give you the features and options necessary for completing any welding or cutting project that may come your way. The 1 inch capacity plasma cutting machines are no different in this regard. Featuring the most innovative power supplies and torches possible, these units are designed for one purpose-- cutting through steel, aluminum, or other metals with as much ease as possible. With some of these units you get to have the peak of modernization in regards to plasma cutting; mechanized cutting. This allows for the setting of your unit to automatically cut to desired specifications and be as hand-off as is possible while remaining safe. For the most competitively priced, quality welding equipment, plasma cutters, and power tools around; contact The Welders Supply Company at 1.800.236.8825, and our welding experts will gladly assist you with all your needs.
Shop at The Welders Supply Company for all your plasma cutting machines and parts needs.