Miller Dynasty 350 Water Cooled Welder #951626
The Miller Dynasty 350 Water Cooled Welder is the finest 350 Amp AC/DC TIG welder on the market. The Ceriated Tungsten is SHARP POINTED and can be used on all materials including aluminum and other similarly soft metals. While in AC mode you can vary the wave frequency up to 250Hz. The arc becomes more focused as you increase the frequency. It's so smooth and works so well, it makes you feel like you are welding steel or stainless steel when you are welding aluminum. With less amperage you can weld thicker aluminum due to the arc being more focused without wandering.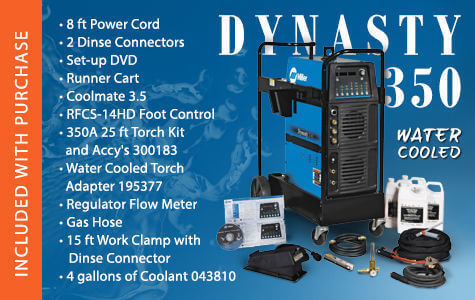 This is a great machine if you are professional TIG Welder. You really need one of these welding machines. If you need more AMPs look at our Dynasty 700!
Input Power
208-575 V, 3- or 1-Phase Power
Rated Output
3-Phase: 300 A at 32 V, 60% Duty Cycle
Single-Phase: 225 A at 29 V, 60% Duty Cycle
Welding Amperage Range
Net Weight 308 lb (122 kg), with TIGRunner®
Includes: 8 ft Power Cord, 2 Dinse Connectors, Set-up DVD, Runner Cart, Coolmate 3.5, RFCS-14HD Foot Control, 350A 25 ft Torch Kit and Accy's 300183, Water Cooled Torch Adapter 195377, Regulator Flow Meter, Gas Hose, 15 ft Work Clamp with Dinse Connector and 4 gallons of Coolant 043810.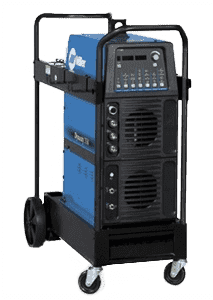 Try these accessories with your New Dynasty 350 AC/DC Tig & Stick, Water Cooled Package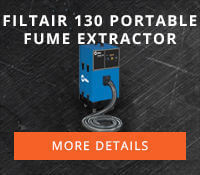 The Miller Dynasty #951626 has been replaced with the new and improved Miller Dynasty #951694.
Miller Dynasty 350 Water Cooled Welder Specifications:

Input Power

208-575 V, 3- or 1- phase power
Welding Amperage Range
3-350 A
Rated Output

300 A at 32 V, 60% duty cycle
Processes

TIG (GTAW)
Pulsed TIG (GTAW-P)
Stick (SMAW)
Air carbon arc (CAC-A) 1/4 in. maximum

Industrial Applications

Precision fabrication
Heavy fabrication
Pipe and tube fabrication
Aerospace
Aluminum ship repair
Anodized aluminum fabrication

Net Weight

135 lb. (61 kg)
SHIPPING DIMENSIONS

Height:
23.00 Inches
Width:
44.00 Inches
Length:
50.00 Inches
Weight:
367 Lb(s) 0 Oz
Product Questions and Answers
---
Q - What input power does this need?
A - 208-575 V on 3- or 1-phase power
Q - Hasn't this model been replaced?
A - Yes, the updated version is #951694.
Have a question about this product? Submit your question using the form below
People who bought this product were also interested in: