220V 3-Phase Power Supply Welders & Plasma Cutters
3-phase power is typically only supplied to industrial and manufacturing operations running large motors or do a lot of heavy-duty welding. 220V 3 phase power outlets will have at least 4 slots, including 3 for each phase of the power supply and one for grounding.
Shop 220V 3 phase electric welders from popular brands including Miller, Victor, Blue Demon, and Hobart.
220V 3-phase Power Supply
3-phase power is typically only supplied to industrial and manufacturing operations running large motors or do a lot of heavy-duty welding. It is extraordinarily rare for a house to have a 3-phase outlet, and if it does you can bet the homeowner paid dearly for the upgrades necessary for a 3-phase power supply.
To eliminate any confusion, 220v is the same as 230v and 240v. The use of different numbers for the same voltage level is to account for voltage variances, as well as evolving standards in terminology. It's the same for 110v, which is often referred to as 115v or 120v. Same for 460v, which is also referred to as 440v or 480v. Prior to the National Electrical Manufacturers Association (NEMA) standardizing the voltage ratings on products, the volt ratings for electrical powered appliances and tools were all over the map.
What does a 220v 3-phase power outlet look like?
3-phase power outlets have at least 4 slots. Three of the slots each supply one phase of the current, with the fourth slot being the ground.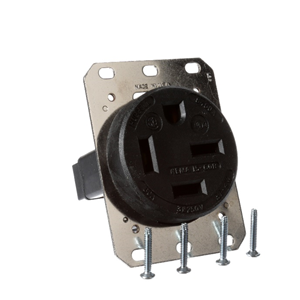 A typical 60a, 250v, 3-phase, 4-wire receptacle
What is 3-phase power, anyway?
Let's start at the beginning, with the electrical current coming to a building from a transformer which is accessed through an AC outlet. Alternating current (AC) does just what the name suggests—it alternates from flowing in one direction in a circuit and then reversing and flowing in the opposite direction. While doing this, the voltage supplied at the outlet varies constantly between a maximum positive and maximum negative amplitude.
With the 60Hz power standard in the US, the flow of electrical current alternates 60 times per second. Visualize it as a sine wave with a peak and a base, and you can see the amplitude of the voltage is at zero two times per cycle. When it's at zero, there is no power supplied. While this doesn't have any significant effect on most electrical appliances, it's a real problem when large motors, machinery, and high-powered welders have an inconsistent power supply.
3-phase power remedies this by providing three alternating currents instead of just two. By doing so, the total amount of power coming from all three currents remains constant, free of the dips and peaks inherent with single-phase power. For this reason, virtually all shops using large motors and heavy machinery are equipped with 3-phase power.
Have questions about 220v 3-phase power?
Getting a grasp on electrical requirements isn't easy for non-electricians, and we can't cover every conceivable scenario involving 220v 3-phase power here. However, we do have more information on different types of welders by power source. If you have questions about the suitability of a particular welding machine for your shop's power supply, feel free to give us a call or send us an email. Our technical staff can answer any questions you have. See also, 220v single phase welders.
For help with your welding equipment questions, call Welders Supply Company at 1-844-682-0205.