Hypertherm Powermax 125 Consumables
Showing 1 of 1 results

SORT BY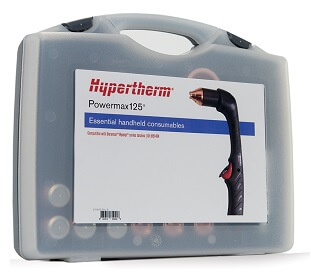 Hypertherm Powermax 125 Handheld Essential Cutting Kit #851474
Add to Cart
Product Number: 851474
Hypertherm Powermax 125 Consumables
Plasma cutting is a dangerous job. The heat produced while even sitting idly is enough to wear and tear away at many parts of a torch. But here at Welder Supply Company we have just the cure for this; a multitude of all the parts to get you up and running again. Without having to compromise the versatility of the unit we proudly carry all the consumable replacement parts you need from nozzles in 45, 65 or 85A varieties each in packages of 5, the shield deflector, the retaining cap, and even the electrode rated and designed solely for this unit in a package of 5
The Hypertherm Powermax 125 Plasma Cutter #059536 produces the most power and thus allows for the best performance out of any other air powered plasma cutting torches on the market to date. Featuring such things as several different modes of use which allows for hand cutting, x-y table cutting, and/or robotic cutting or gouging. And comes standard with the Smart Sense technology that customers have come to know and love with this product. For it not only adjusts the gas pressure according to the mode you have set it to and torch lead length, but will also protect you and the item you are working on by shutting off the instant that the electrode is registered (automatically) as being bad.
All of these features allows for cutting robotically at a recommended 38mm at 18ipm's to a maximum of 44mm at 10ipm's, or 57mm by hand at a peek of 5ipm's. Both of which have a recorded pierce depth of 25mm. This allows this unit to be used for the cutting of many different heavy duty materials at an effective and cost efficient pace. While the gouging of metal at 27.6 lbs. /hr. and achieving 0.17-0.31 depth X 0.24-0.39 width is something that should not be ignored either. It is both of these factors that make this unit a favorite for the industrial sectors. But here at Welder Supply Company we will serve the needs of big businesses to small private users with the same dedication and professionalism. Carrying all the parts and accessories to get you unit back up and running again, or just to add the personal flair to make it as unique as you are.
Browse our selection of plasma cutter consumable parts Hypertherm Powermax, Miller and Thermal Dynamics or have a look at our Plasma cutting machines at online Welder Supply Company.