Hypertherm Powermax 125 Consumables
7 items found

SORT BY
Hypertherm HPR260XD Consumables Mild Steel SilverPlus Electrode #22066...
Add to Cart
Product Number: 220666
Hypertherm Serial Interface Port (RS-485) Upgrade Kit #228539
Add to Cart
Product Number: 228539
Hypertherm Powermax 125 Handheld Essential Cutting Kit #851474
Add to Cart
Product Number: 851474
HYPERTHERM 50FT CNC MACHINE INTERFACE CABLE W/VOLTAGE DIVIDER #228351
Add to Cart
Product Number: 228351
Hypertherm Nozzle 125 Amp #220975
Add to Cart
Product Number: 220975
Hypertherm 30-125A Swirl Ring #220997
Add to Cart
Product Number: 220997
Hypertherm Shield 125A Hand for Powermax 125. #420000
Add to Cart
Product Number: 420000
Hypertherm Powermax 125 Consumables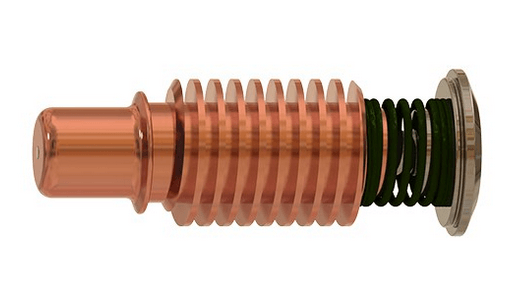 Plasma cutting is inherently dangerous work, even more so if your consumables are worn out. Which is why you need to keep a few spares on hand at all times. Welders Supply Company has all the consumable replacement parts you need for Hypertherm Powermax plasma cutters, from nozzles in 45, 65 or 85A varieties (5 to a package), the shield deflector, the retaining cap, and even the electrode designed specifically for this unit (also 5 to a package).
The Hypertherm Powermax 125 Plasma Cutter #059536 is the most powerful plasma cutter in its class and with modes for hand cutting, x-y table cutting, and/or robotic cutting or gouging it's also one of the most versatile. Equipped with Hypertherm's Smart Sense technology, it not only adjusts the gas pressure according to the mode you have set it to and to the torch lead length, but also protects you and your work by shutting off the instant it detects the electrode is no longer safe to use.
With the capability to cut robotically from the recommended 38mm at 18ipm's to a maximum of 44mm at 10ipm's, or 57mm by hand at a peak of 5ipm's, and with pierce depths of 25mm, the Powermax 125 can cut many different heavy-duty materials quickly and cost-effectively. It's no slouch at gouging, either, with a gouging capability of 27.6 lbs. /hr. at a maximum of 0.17-0.31 depth by 0.24-0.39 width.
The combination of performance and features in the Hypertherm Powermax 125 has made it a slam dunk for a wide range of industrial applications, but it's also favored by artisans and hobbyists. Welders Supply Company serves the needs of both big businesses and hobbyists with the lowest possible prices on Hypertherm plasma cutters, parts and accessories.


Browse all plasma cutter consumables and parts for Hypertherm Powermax, Miller and Thermal Dynamics, or shop all plasma cutting machines for sale online Welders Supply Company.