Hypertherm Powermax 125 Consumable Parts

SORT BY
Hypertherm Powermax 125 Consumables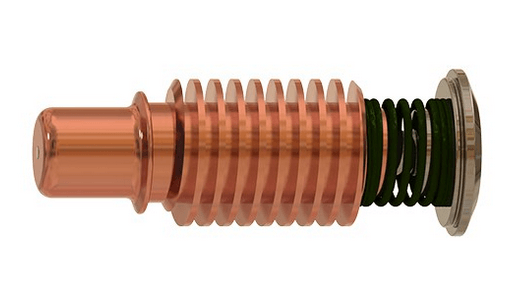 Plasma cutting is dangerous work especially when your consumables are worn out. Which is why you need to keep a few spares on hand at all times. Welders Supply Company has all the consumable replacement parts you need for Hypertherm Powermax plasma cutters, from nozzles to retaining caps.
The Hypertherm Powermax 125 Plasma Cutter #059536 is the most powerful plasma cutter in its class and with modes for hand cutting, x-y table cutting, and/or robotic cutting or gouging. It's also very versatile. Equipped with Hypertherm's Smart Sense technology, it adjusts the gas pressure according to the mode you have set it to and to the torch lead length. At the same time, it protects you by shutting off the instant it detects the electrode is no longer safe to use.
The Hypertherm Powermax 125 Plasma Cutter
can cut 38mm at 18ipm's to a maximum of 44mm at 10ipm's, or
can cut 57mm by hand at a peak of 5ipm's
pierce depths of 25mm, the Powermax 125
can cut many different heavy-duty materials quickly and cost-effectively.
gouging capability of 27.6 lbs. /hr. at a maximum of 0.17-0.31 depth by 0.24-0.39 width
Consumable part
Description
When to replace
Options
Electrode
Conducts electricity from torch to plasma arc

Excessive wear/corrosion
Uneven/erratic cutting

Shield deflector
Covers & protects the nozzle

Excessive wear/damage
Noticeable spatter buildup
Cracks or breaks

Retaining cap
Holds the nozzle & electrode in place and helps shape plasma arc

No longer holds parts in place
Unstable arc pattern
Visible damage

Nozzle
Shapes plasma arc for cleaner, more precise cuts

Visible damage
Clogged with debris
Uneven/erratic cutting

Swirl ring
Stabilizes and swirls the airflow

Visible damage
Clogged with debris
Uneven/erratic cutting
The combination of performance and features in the Hypertherm Powermax 125 has made it a slam dunk for a wide range of industrial applications. It's also favored by artisans and hobbyists. Welders Supply Company serves the needs of both big businesses and individuals with the lowest possible prices on Hypertherm plasma cutters, parts and accessories.