Hypertherm Powermax30 XP Consumable Parts

SORT BY
Hypertherm Powermax 30 XP Consumable Parts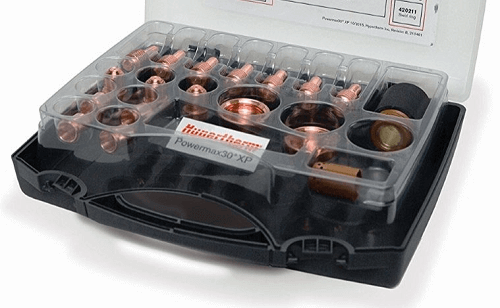 When it comes to keeping your Hypertherm Powermax 30 XP operating at peak performance, quality consumables are essential. At Welders Supply Company, we've got you covered with the full line of consumables you need, all at unbeatable prices.
You won't find a better selection of genuine Hypertherm consumables anywhere else. Our nozzles, electrodes, and other consumables are designed and built to deliver clean, quick, and cost-effective cuts every time.
Don't risk damaging your Powermax 30 XP with generic parts that won't last. Trust only the best and insist on genuine Powermax 30 XP compatible consumables. With Welders Supply Company, you'll never have to worry about running out of consumables again. Shop now and keep your Powermax running like new!
Welders Supply Company carries these Hypertherm consumables:
Consumable Part
Purpose
When to Replace*
30 XP swirl ring #420211
Stabilizes and swirls the airflow

Visible damage
Clogged with debris
Uneven/erratic cutting

Covers & protects the nozzle

Excessive wear/damage
Noticeable spatter buildup
Cracks or breaks

30 XP electrode/nozzle set #428243

Conducts electricity from torch to plasma arc

Excessive wear/corrosion
Uneven/erratic cutting

30 XP retaining cap #420114
Holds the nozzle & electrode in place and helps shape plasma arc

No longer holds parts in place
Unstable arc pattern
Visible damage
*Always refer to Hypertherm's specifications in your product manual for specific maintenance intervals to ensure optimal performance.
Powermax 30 XP Consumable FAQs
Are Powermax 30, Powermax 30XP, and Powermax 30 AIR consumable parts interchangeable?
No. While some parts may be interchangeable, there are differences in the nozzle, swirl ring, and retaining cap designs between each model. It is important to refer to Hypertherm's recommendations and specifications to ensure that you are using the correct consumable parts for your specific machine.
Are Powermax 30 XP machines able to upgrade to SmartSYNC consumables?
No. Only Powermax 45XP, 65, 86, and 105 systems are able to upgrade using the SmartSYNC consumable adapter.
Free Shipping on Orders Over $300
Obviously, a handful of consumables aren't going to come close to $300, but if you have other things to buy and your total is over $300 you'll be eligible for free shipping anywhere within the continental US.