Cutmaster 102 Plasma System, 100 Amp, SL100, 75 Deg Head, 50 ft Leads, 460V, 3Ph, 50/60Hz Ready, Multi-Voltage/Phase Capable #1-1331-2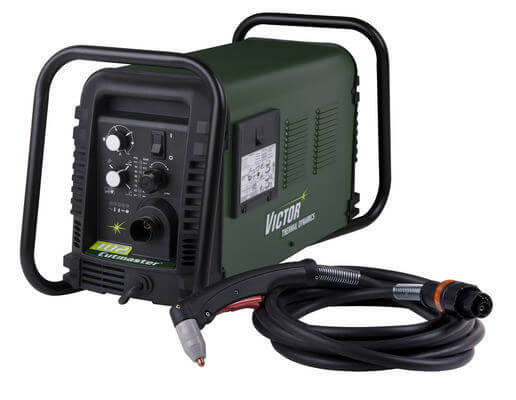 Share

Print
$3,799.00
$4,453.00
Reduced Price
You Save
$654.00

Thermal Dynamics Cutmaster 102 Plasma System #1-1331-2
CUTMASTER® TRUE™ Series has been designed with the idea that recommended cut capacity should also be the TRUE cut capacity. The TRUE Cut Series eliminates the concept of having to "buy up", purchasing a machine larger than you actually need. With the introduction of the CUTMASTER TRUE Series, a one-half inch recommended capacity machine will cut one-half inch material ALL DAY, EVERY DAY. NO EXCEPTIONS. The CUTMASTER® 102 is the fastest cutting system on the planet.

Warranty: 1 Year
Included Features
TRUE GUARD roll bar provides easy transportation and protects the front and rear of the power supply for unmatched durability.
Color Coded LED's indicate pressure status and setup errors.
All user controls are conveniently located on the front panel
Lightweight design improves portability (Reduced nearly 50%).
Trigger latch feature prevents hand fatigue during long cuts. Auto Pilot Restart feature instantly reignites the pilot arc while cutting expanded metals.
Multiple Torch Capability (Hand, Mechanized, Automation)
The Industry's only 60 Amp Drag Tip
Convenient storage compartment for spare and consumable parts
Universal selectable input power from 208 to 460 VAC + 10%, single or three phase, 50 or 60 Hz.
Power Supply
50 ft. (15.2m) Lead
1Torch SL100, 75 deg. Head
10 ft. (3.0m) Input Power Cable, Work Cable without 20 Amp Plug (460V) and Clamp
Spare Parts Kit
Operating Manual
Other Features
Front Panel LEDs indicate status conditions for maximum efficiency.
Storage compartment for convenient access to spare parts and consumables.
Versatile 1Torch with ATC disconnect makes it easy to add lead extensions or convert to a machine torch.
True Guard roll bar provides easy transportation and protection for unmatched durability.
Multi-voltage allows operation from 208 to 480 Volts in a single power supply.
Auto Pilot Restart feature instantly reignites the pilot arc while cutting expanded metals.
Lighter weight design for maximum portability.
General Specifications

Process(es)

Manual Air Plasma Cutting

Maximum Amperage Output

100A

Output Power

12 kW

Maximum Cut

1 3/4" (45 mm)

Pierce Rating

3/4" (20 mm)

Recommended Cut

1" (25mm)

Amperage Range

20-100 Amps

Industrial Applications

Heavy Fabrication

Manufacturing

Contractors

Input Voltage

460V, 1/3 Phase, 50/60 Hz

Duty Cycle (@ 40 deg C)

60% @ 100A

80% @ 80A

100% @ 70A

Amperage Draw

29A @ 460V, 3 ph

Dimensions: (H x W x D)

15" (381 mm) x 12" (305 mm) x 30" (762 mm)

Weight

62 lbs (28.1kg)

Pilot

Start Cartridge

Control

Hand Torch Switch or Hand Pendant Control

Warranty (Parts & Labor)

4 Years
Torch Specifications

Hand, Automated & Mechanized

SL100

Air Pressure

70 psi (4.8 bar)

Flow

7.5 cfm (212 l/m)

Torch

SL100 with ATC (hand)

Certifications

IP23S
---
Have a question about this product? Submit your question using the form below