460V 3 Phase and Single Phase Power Supply - Heavy-Duty Welders & Plasma Cutters
460V power outlets is only used in heavy-duty fabrication shops, factories, and commercial buildings. Many 460V welding and plasma cutting machines are dual voltage and can plug into a 220V outlet.
Shop 460V electric welders from popular brands including Miller, Victor, Blue Demon, and Hobart.
460v Power Supply
460v power (also referred to as 480v or 440v) is only used in heavy-duty fabrication shops, factories, and commercial buildings requiring power for machinery and large HVAC systems. High-power welding machines are typically rated at 460v or 460v 3-phase. At most commercial and industrial buildings, the power coming into them is 480v, 3-phase, 60Hz or 208v, 3-phase, 60Hz.
Most heavy equipment welders, like Miller's PipeWorx 400, are rated as 230/460v. A dual voltage rating like this enables you to run the machine on either 220v or 440v service. For all other voltages, check out our power supply by power source page.
Can a welder requiring 460v AC power be used with a 480v AC outlet?
Yes. Per ANSI standards, 480v is the "distribution voltage", 460v is the "utilization voltage." Before there were universal standards, some motors were designed for 440v, some for 460v, and others for 480v. If you look at the nameplates of old motors, you'll see the variation in voltage ratings. NEMA chose 460v, the in-between rating, as the Utilization Voltage standard so manufacturers could unify their nameplate information without any changes in the design of the motor.
What does a 460v power outlet look like?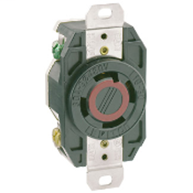 Like most 440-480v receptacles, this 30A, 3-phase, 4-wire outlet has a twist-lock to prevent the cord from accidentally getting pulled out while a machine is in use.
What does a 460v plug look like?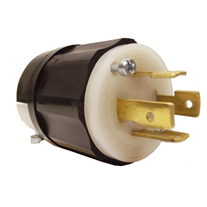 480v, 20 Amp, 3-phase locking plug
Do you need a 460v outlet to run a welder rated at 460v?
Generally speaking, if you want to run a welder rated at 460v, you need a 460v outlet. However, many Miller welding machines rated at 460v are also rated for 220v service, so you can run them on 220v service with a different cable and plug (supplied with the machine). Miller welders equipped with their Auto-Line technology will automatically adjust for virtually any AC power (from 110v to 575v), including single-phase and three-phase. It also enables consistent, powerful arcs even with the dips and spikes coming with "dirty" power. Other brands have similar multi-voltage capability.
Have questions about 460v power?
Getting a grip on electrical requirements can be confusing for non-electricians. If you have questions about the suitability of a particular welding machine for your shop's power supply, feel free to give us a call or send us an email. Our technical staff can answer any questions you have.
Check out Welders Supply Company's full selection of MIG, TIG, and stick welders.