Thermal Dynamics
Our more popular thermal dynamic products include:
Thermal Dynamics Plasma Cutting Systems Have Leading Technology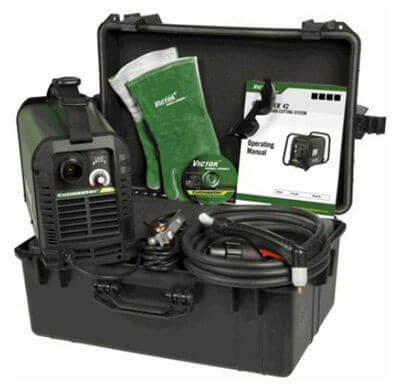 Thermal Dynamics is the world's innovative leader in plasma cutting technology. A pioneer in plasma cutting systems, Thermal Dynamics is a world leader setting the standard in flexibility, value and performance for advanced high precision cutting equipment. Its manual systems, automated systems, manual torches, automated torches and full line of accessories cover every plasma cutting application imaginable.
Thermal Dynamics' plasma arc cutting systems cut almost any material -- light gauge to 4" thick -- to highly portable 110V units for HVAC work -- to the most sophisticated CNC (Computer Numeric Control) systems for high precision fabrication.
Plasma cutters from Thermal Dynamics have revolutionized the welding world. Technological breakthroughs are always available – and affordable – from the welding experts at Welders Supply.
Consumables
Thermal Dynamics has designed the exact consumables for each plasma cutter to deliver the finest results. These include 1Torch, XT-300 (Ultra Cut), XT-301 (Auto Cut), Maximizer, Legacy (PCHM), Cutskill and SL40 Torch.
Manual Plasma Systems
Thermal Dynamics offers a wide range of Manual Plasma Systems including the Cutmaster series: Cutmaster 42, Cutmaster 82, Cutmaster 102 and 152. The company also offers various compressor units and products specifically for industrial applications. There is a top-quality plasma system from Thermal Dynamics which is perfect to meet virtually any welding challenge.
Manual Plasma Torches
Top quality torches are available from Thermal Dynamics, including SL40, Legacy, 1Torch, 1Torch - SL60, 1Torch – SL-100, and various torch adapters. A complete line of PCH plasma torches includes 42, 51, 6B, 120, 150 and 200. These are effective, durable, well-designed and comfortable.