Thermal Dynamics
ESAB Plasma Cutters
Thermal Dynamics Plasma Cutters
Leading Technology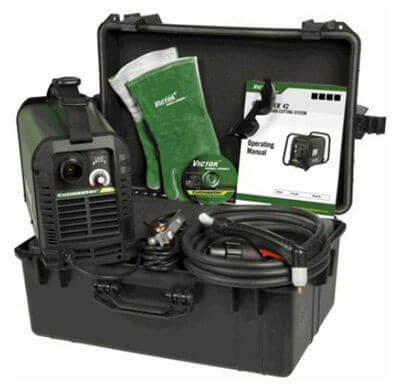 Thermal Dynamics, an ESAB brand, is among the world's most innovative leaders in plasma cutting technology. A pioneer in plasma cutting systems, Thermal Dynamics is a world leader setting the standard in flexibility, value and performance for advanced high-precision cutting equipment. Its manual systems, automated systems, manual torches, automated torches and full line of accessories cover every plasma cutting application imaginable.
Thermal Dynamics' plasma arc cutting systems cut almost any material -- light gauge to 4" thick -- to highly portable 110V units for HVAC work -- to the most sophisticated CNC (Computer Numeric Control) systems for high precision fabrication.
Plasma cutters from Thermal Dynamics have revolutionized the welding world. Technological breakthroughs are always available – and affordable – from the welding experts at Welders Supply.
ESAB Thermal Dynamics Plasma Cutters For Sale at Welders Supply
Cutmaster 42
Affordably priced, high-quality 120V 1/4" (6 mm) plasma system. At 230V, the Cutmaster 42 delivers 40A, a recommended cut of 3/8". Will cut all day at its recommended cutting capacity. Vent2Shield (V2S) technology allows the use of a smaller compressor than similar 40A units (less weight to carry, can be used with 120V).
Cutmaster 52
Most powerful 1/2" (12 mm) machine available today. Cuts through mild, stainless, or aluminum up to 1 1/8" (30 mm) thick. Impressive power combined with the performance and versatility of the industry-leading 1Torch® makes the Cutmaster 52 an excellent choice for a wide variety of applications.
Cutmaster 60i
Thermal Dynamics calls the 60i "the perfect combination of end-user insight, advanced technology, and intelligent design." Couldn't agree more! This unit offers the highest power-to-weight ratio in its class and the best-in-class cutting arc length. Comes with their SL60QD 1Torch®.
Cutmaster 82
Although it weighs just 43 lbs., the Cutmaster 82 is no lightweight when it comes to cutting power. Easily cuts through ¾" (20mm) with a max of 1.5" (40mm). Operates from 208 to 480 V in a single power supply. Equipped with Thermal Dynamics' versatile 1Torch and True Guard roll bar.
Cutmaster 102
100 amps of cutting power in a compact, 62 lb. package with multiple voltage selection (208 to 480 V) makes the Cutmaster 102 the most portable and powerful plasma cutter available. With the included 1Torch, the max cut capacity is 1 ¾", higher than any other system in its class.
Cutmaster 152
The Cutmaster 152 packs 120 amps of cutting power in a compact, 62 lb package. The recommended cut is 1 ¼" (30mm) and a max cut of 2" (50mm). Multi-voltage 1 or 3-phase input. Equipped with Thermal Dynamics' versatile 1Torch.
AirCut 15C
Portable system with a built-in air compressor provides superior cutting capacity (3/16" max capability) and 25% faster cut speeds than other units in its class. Weighing only 29 lbs, it's also 50% lighter than other units. Operates on 120V, 15 Amp plug.
Drag-Gun Plus 35C
A brilliant choice for a wide range of cutting work around the farm, in the shop or on construction sites. ½" (12mm) cut capacity with maximum arc visibility for better operator control. Comes with a built-in compressor and Humidity Removal Kit.
Thermal Dynamics Consumables
Thermal Dynamics has designed the exact consumables for each plasma cutter to deliver the finest results. These include 1Torch, XT-300 (Ultra Cut), XT-301 (Auto Cut), Maximizer, Legacy (PCHM), Cutskill and SL40 Torch.