Hypertherm Powermax 105 Plasma Cutters
Hypertherm's next generation of the Powermax 105 plasma cutter is here. The all new Powermax 105 SYNC plasma cutter makes use of Hypertherm's new cartridge consumables, simplifying the consumable stack into a single piece. The streamlined system reduces downtime, simplifies inventory management and guarantees the best cut every time.

SORT BY
Hypertherm Powermax 105
Powermax 105 w/ CPC port
Hypertherm Powermax 105 Plasma Cutters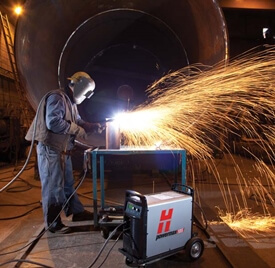 Designed to take on the toughest industrial cutting and gouging work, the Powermax 105 is a heavy-duty, portable plasma system with 1-1/4" cut capacity for both handheld and mechanized cutting and gouging. Excellent cut and gouge quality means less time spent grinding and prepping edges. Features Hypertherm innovations like SmartSense™ automatic gas pressure adjustment and compatibility with multiple Duramax™ torches so you can take on a wide range of jobs.
Cut speeds three times faster than oxyfuel on ½" mild steel
Superior cut capabilities on 1 ¼" thick metals
SmartsSense™ technology automatically adjusts gas pressure
Compatible with seven Duramax™ torches for everything from hand cutting to portable automation, X-Y table cutting and robotic cutting and gouging
Two Options: With CPC Port — Without CPC Port