Miller FILTAIR® SWX-D Single-Arm Package 951514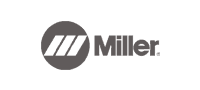 Miller FILTAIR® SWX-D (Disposable Filter) Single-Arm Package 951514, 10 ft. Standard Fume Extraction Arm
Besides being a demanding profession, welding is also fraught with hazards. While spatter on exposed skin is an obvious peril, one of the biggest health hazards isn't even visible to the naked eye-- the submicron sized metal oxide particles in welding fumes. Without a good fume extraction system, this toxic cocktail of particulates can enter your body through your nose or mouth and cause health issues ranging from "metal fever" to cancer.
Miller's FILTAIR fume extraction systems are available in a variety of configurations to work with virtually any indoor welding environment. They can be wall or column mounted. This package comes with a 10' Standard Fume Extraction Arm, but you can expand your single arm system with a 4.5' telescoping arm, a 7', or a 12' arm--effectively creating a dual arm system customized to whatever fume extraction challenge you may have.
What's Included:
8 in. diam. x 10 ft. ZoneFlow fume extraction arm
Backdraft dampers
Flexible duct (7 x 37 in.)
Mounting bracket for blower/arm
ZoneFlow motor control box
115 V on/off control box
115 V blower
Features Overview:
ZoneFlow™ Technology - Creates a negative pressure zone that funnels air to the center of the arm from greater distances. The arm features convenient 360-degree rotation for unlimited positioning and extended welding time.

Easy-to-Operate ZoneFlow™ Arm - Arm with external adjustments so air can pass through with less airflow resistance, giving you stronger CFM (airflow). It offers reliable and accurate positioning across the full range of motion of the arm, as well as easy adjustment and maintenance to ensure long-lasting operation. Extraction arms are available in 10- or 12-foot lengths.

Less Arm Movement - With a capture zone that is 3 times larger than traditional systems, users have less interaction with the arm, increasing arc-on time and productivity.

Class Leading Suction Power - High-performance fan generates 1,200 cfm and creates an Accu-Rated minimum of 875 cfm extraction at the hood to better capture weld fumes and provide a cleaner environment.

Dual Fan Capture Zone Control - Keep both sides of the fans turned on for a 360 degree capture zone or turn one side off to position next to a wall or curtain for a 180 degree capture zone.
Processes:
Stick (SMAW)
Flux-cored (FCAW)
MIG (GMAW)
TIG (GTAW

SHIPPING DIMENSIONS

Height:
41.00 Inches
Width:
57.00 Inches
Length:
73.00 Inches
Weight:
393 Lb(s) 0 Oz
Product Questions and Answers
---
Q - What filters does this take?
A - This is the SWX-D unit and it takes the disposable filters, part #300539
Q - Is there some kind of light that can be added to this?
A - Yes, the SWX Hood Light with Arc Sensor -- part #300763
Have a question about this product? Submit your question using the form below
People who bought this product were also interested in: