Miller Safety Apparel

SORT BY
Our more popular Miller safety apparel includes:
Miller Safety Apparel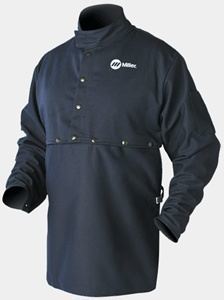 Welding and metal cutting isn't something to be undertaken in a T-shirt and shorts. Not even on those hot, humid days when the sweat just streams out of you in rivers. You need top quality, flame-resistant jackets, bibs, aprons and sleeves to protect against heat, hot slag and sparks. Like what you'll find here.
From their flame resistant, pre-shrunk Classic Cloth aprons and cape sleeves to premium grain pigskin leather jackets and WeldX bibs and aprons, Miller safety apparel is made to protect and to last. They even use Kevlar thread for maximum durability. They haven't overlooked comfort and fit, either. It's the little extras that make the difference—like corduroy collars with satin lining and strategically placed expandable leather to provide more freedom of movement where you need it most.
With all the work Miller puts into making top quality welding safety equipment, you might well expect to them to be a bit pricey. Surprise, they're not! Especially with our low prices at Welders Supply.
Miller Welding Safety Apparel Available at Welders Supply:
Cloth aprons, bibs, sleeves, cape sleeves, welding jackets
Leather bibs, aprons, welding jackets
INDURA cloth welding sleeves and jacket
Leather welding bib/apron, jacket
WeldX apron, bib, sleeves, cape sleeves
Caps & Bandanas
See our entire inventory of Miller Safety Equipment for sale online today.