Welding Machines for Cast Iron
Welders for Cast Iron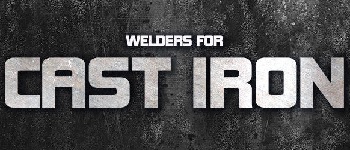 Cast iron is one of the most difficult materials to weld. White cast iron, in particular, can be one of the most stubborn metals to work with. If tough jobs are regularly on your do-list, count on Welders Supply for the welding equipment and accessories you need to get the work done.
Since 1938, we've been supplying the tools for everything from light repair work around homes and ranches to large scale industrial fabrication. Besides having unbeatably low prices on top quality welding equipment, Welders Supply is pleased to offer free shipping on all orders over $300 (within the continental US).
About Cast Iron Welding
One of the keys to great welds on cast iron is maintaining the temperature of the metal. To do this, you need to make sure that the item is heated evenly and slowly before welding. While you weld however, you still should try to keep the weld to 1 inch, with peening at the end for strength. Then, allow the item to cool down gradually.
In the case of a major crack, you'll need a different method of welding to ensure the damage does not get any worse. Referred to as "the studding method," it involves drilling holes into the cast iron and attaching the cast iron filler metal, then welding screws in place and completely immersing the entire surface of the filler metal with weld deposit. After cooling (either through the pre-heated method or air cooling), you will be able to weld the two sides of the item back together.
Another common problem is cast iron cracking at the site of the weld. If the cast iron needs to be water tight, sealer compounds can be used to prevent cracks from widening or releasing liquid already within the cast iron object.
For information on welders for cast iron welding, or any of our other products, Contact a Welders Supply associate.